Recipes: 4 Great Game-Day Dishes
Snacking during sporting events doesn't have to leave you feeling sacked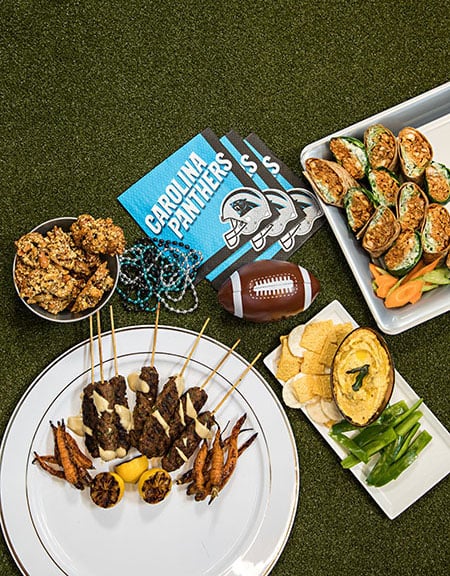 CHEF ALYSSA WILEN TEACHES hands-on cooking classes in South End's Atherton Market. Before that, she worked in the restaurant industry for more than 10 years. Learn more about Chef Alyssa's Kitchen at chefalyssaskitchen.com.
---
Honey-Cinnamon Nut Clusters
Makes 12 to 15
1 cup almonds
1 cup walnuts
1 cup cashews
2 tablespoons sesame seeds
1 tablespoon flax seeds
1/3 cup honey
½ teaspoon vanilla bean paste
¼ teaspoon cinnamon
Pinch of salt
1. Preheat oven to 350 degrees.
2. Prepare a baking sheet lined with parchment paper; then grease with cooking spray.
3. Combine nuts, sesame, and flax seeds in a bowl. Separate in half, then place one half in the food processor and pulse into smaller pieces. Return pieces to bowl with remaining, whole-nut mixture.
4. Heat honey and vanilla in a saucepan over medium heat until melted.
5. Pour honey onto the nut mixture, add cinnamon and salt, and stir to coat. Place nuts onto the baking sheet in clusters.
6. Bake for 20 to 30 minutes, until nuts start to brown. Allow to cool, and store in the fridge or a cool, dry place.
---
Buffalo Chicken Wraps with Celery Slaw
Serves 8
Pulled chicken:
1 4- to 4½ -pound chicken, broken down
2 teaspoons salt, plus more as needed
1½ teaspoons toasted onion powder
1½ teaspoons roasted garlic powder
2 teaspoons cayenne pepper
3 tablespoons smoked paprika
1 tablespoon cooking oil
½ cup apple cider vinegar
1 cup chicken stock
Celery slaw:
4 to 5 stalks celery
4 green onions, thinly sliced
¼ cup Greek yogurt
¼ cup crumbled creamy blue cheese (more to taste)
Salt and pepper
Wraps:
Whole wheat tortillas
1. Pat chicken dry and place in a large bowl.
2. Mix salt, onion powder, and garlic powder with 1 teaspoon of cayenne and 1 tablespoon of smoked paprika, reserving the rest for later.
3. Heat a saucepan on medium-high. When it begins to smoke, add the cooking oil and sear the chicken on both sides until it is golden brown. Be sure that the residue on the bottom of the pan does not blacken to the point of burning.
4. Add the vinegar and cook until it reduces halfway. Then, add the chicken stock. When it comes to a simmer, cover and reduce heat to low. Cook for 30 minutes, or until the chicken is tender and easily pulls away from the bone. Once ready, use tongs to remove the chicken to cool. Keep remaining broth on the stove, uncovered, and boil to reduce. This will create a thick sauce to keep the chicken moist.
5. Meanwhile, shred the chicken thighs using tongs, two forks, or gloved hands. Combine with the thickened cooking liquid and the remaining cayenne and smoked paprika. Cover and reserve to fill the wraps.
6. To make the celery slaw, use a mandoline slicer to shave the celery. Combine with the green onions, yogurt, and blue cheese. Season to taste.
7. Place about ½ cup of shredded chicken with a couple of pinches of the celery slaw inside a wrap. Tuck in the sides, then roll.
---
Butternut Squash Dip
Makes 1 quart
2 pounds butternut squash, largely diced
2 tablespoons extra virgin olive oil
Salt and pepper to taste
8 ounces cream cheese
¼ cup gently packed sage leaves, coarsely chopped
1. Preheat oven to 400 degrees. Add squash, oil, salt, and pepper to a bowl, tossing to coat the squash. Then, place squash in an even layer on a sheet pan lined with parchment paper and bake for 10 to 15 minutes, until the squash begins to brown on the outside and is fork-tender. Remove from the oven and cool to room temperature.
2. Purée squash with cream cheese in a food processor until smooth.
3. Add sage leaves to the squash, and purée until fully incorporated. Season with additional salt and pepper as needed.
4. Serve dip at room temperature.
---
Kofta Kebabs
Makes 8 to 10 skewers
1 pound ground beef
½ yellow onion
1 clove garlic
1 tablespoon Aleppo chili pepper
1 teaspoon coriander
1 teaspoon cumin
½ teaspoon smoked paprika
1 teaspoon sugar
1 tablespoon each: minced fresh cilantro, parsley, and mint
Pinch of baking soda
Soaked bamboo skewers
1 lemon, halved, for serving
Tahini sauce:
¼ cup tahini
2 tablespoons olive oil
2 tablespoons fresh lemon juice
2 to 4 tablespoons water
Pinch of salt
1. Grate the yellow onion and crush the garlic using a microplane.
2. Combine all ingredients, mixing thoroughly.
3. Shape beef into ovals, using 2 to 3 tablespoons of beef each. Lay on a sheet tray and refrigerate for 30 minutes.
4. Meanwhile, make the tahini sauce by mixing tahini, olive oil, and lemon juice with enough water to create a smooth consistency. Season with salt.
5. Put a skewer through each oval lengthwise, then cook on a heated grill or cast iron grill plate over high heat until browned on each side.
6. While kebabs are resting, place a cut lemon on the grill, cut-side down, and cook until caramelized.
7. Serve kebabs drizzled with tahini sauce and grilled lemon.