Recipes for Cinco de Mayo
Some of your favorite recipes from around town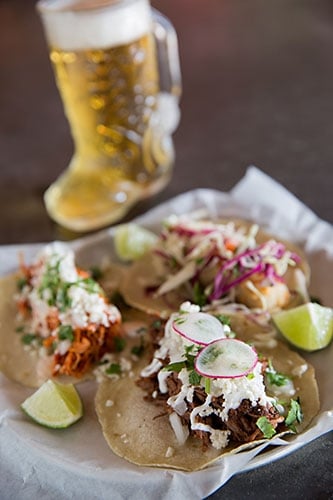 Cinco de Mayo – May 5 – is the day we celebrate Mexico's independence. Stateside, that usually means lots of margaritas, chips, salsa, and tacos. If you're throwing your own fiesta, check out a few recipes we snagged from Paco's Tacos and Bakersfield:
Bakersfield's Black Beans: What's a better south-of-the-border side than black beans? Bakersfield's are more than meets the eye.
Two 15oz cans of black beans with juice
3/4 cup white onions, finely chopped
2 teaspoons kosher salt (more or less depending on taste preference)
3/4 teaspoon black pepper
1 tablespoon minced garlic (more or less depending on taste preference)
2 tablespoons minced fresh jalapenos (keep seeds for more heat!)
1 bay leaf
1 teaspoon cumin
* Water as needed
Place all ingredients EXCEPT beans in a stockpot and sauté over medium heat until onions are tender and translucent. Add beans to pot. Water may be added if necessary. Simmer 15-20 minutes or until beans are tender and easily smash (but don't smash them!)
Paco's Taco's Guacamole: Paco's Tacos creates their Unholy Guacamole table side, and you can do the same for your Cinco de Mayo fiesta.
2 shelled avocados

4 oz fresh pico de gallo (store bought or prepare your own with diced fresh tomatoes, red onions, cilantro, garlic, lime juice, and salt)

1 oz fresh lime juice

1 teaspoon kosher salt
Mash all of the ingredients together in a bowl. Grab some tortilla chips and serve!