Recipes: The Best of Brunch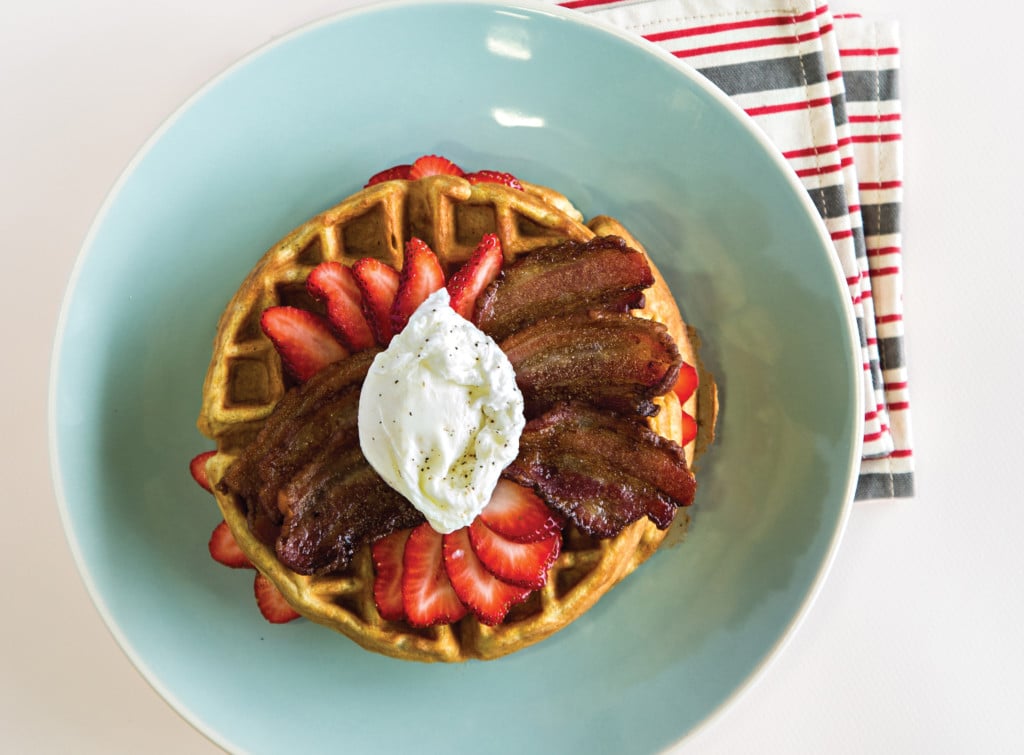 BRUNCH IS BECOMING one of America's favorite pastimes, but who says you need to go out to enjoy it? Here are three of my favorite recipes for hosting a mid-morning meal.
Chef Alyssa Wilen teaches hands-on cooking classes in South End's Atherton Market. Before that, she worked in the restaurant industry for more than 10 years. Learn more about Chef Alyssa's Kitchen at chefalyssaskitchen.com.
---
Sweet Potato Waffle Topped with Poached Egg and Crispy Bacon
Serves 8
1½ cups all-purpose flour
2 tablespoons sugar
2 teaspoons baking powder
¼ teaspoon ground cinnamon
¼ teaspoon allspice
½ teaspoon salt
1 cup milk
2 large eggs, separated, plus 1 additional egg white
¾ cup packed grated sweet potato
4 tablespoons unsalted butter, melted
1. Preheat a waffle iron.
2. Sift together the flour, sugar, baking powder, spices, and salt into a large bowl.
3. Mix the milk and egg yolks in a separate bowl.
4. Pour the wet ingredients into the dry and begin mixing. Add the melted butter and continue mixing until smooth.
5. Stir in the sweet potato.
6. Whip the egg whites at medium speed using an electric mixer until stiff peaks form.
7. Fold into the batter in two additions.
8. Grease waffle iron and scoop batter in, spreading the batter out evenly and using enough to cover the entire surface of one side of the iron. Close and cook according to manufacturer's instructions.
9. Once golden brown and crisp, remove the waffle. Serve topped with cooked bacon, maple syrup, fresh berries, and a poached egg (recipe follows).
Poached Eggs:
1. Heat enough water to fill a 2-quart or larger saucepot at least halfway. Add 1 teaspoon kosher salt and 2 teaspoons white vinegar and bring to a simmer over medium heat. Meanwhile, crack 1 very fresh, cold large egg into a custard cup or small ramekin. Use the handle of a spatula or spoon to quickly stir the water in one direction until it's smoothly spinning around.
2. Carefully drop the egg into the center of the whirlpool. The swirling water will help prevent the white from "feathering," or spreading out in the pan.
3. Lower the heat and cook the egg for 4 to 5 minutes. Lift the egg out with a slotted spoon. You can poach two or three eggs at one time using this method; cook the eggs in batches if making more.
---
Smoked Whitefish Salad
Serves 6 to 8
Smoked Fish:
1 pound tilefish (mackerel, black cod, or trout can substitute)
1 quart room-temperature water
½ cup kosher salt
1 tablespoon brown sugar
2 bay leaves
1 tablespoon kosher salt
3 cups applewood or hickory wood chips, soaked for 30 minutes
1. Mix water, salt, and brown sugar in a glass bowl until the salt dissolves.
2. Submerge the fish, then press a piece of plastic wrap over top to keep the fish submerged.
3. Marinate in the refrigerator for at least two hours, and up to four, for a half-inch thick filet.
4. Drain the fish and rinse under cold water. Pat dry and let rest at room temperature for 30 minutes.
5. Meanwhile, prepare the smoker. Drain the wood chips and heat the smoker to 250 degrees. Smoke fish for 30 minutes.
6. Remove from the smoker and refrigerate until fully chilled.
Salad:
¼ cup labneh yogurt cheese (or crème fraîche)
¼ cup good-quality mayonnaise (I prefer one made with avocado oil)
Zest and juice of 1 lemon (plus more lemon juice as needed)
½ cup thinly sliced carrots
2 tablespoons minced parsley
Salt to taste
Pinch of cayenne pepper
1. Combine labneh, mayo, lemon zest and juice, then season with salt and cayenne.
2. Flake the cooled fish into large pieces. Place in a bowl and toss with dressing. Add the parsley.
3. Adjust seasoning and add additional lemon juice if needed.
---
Sorghum Berry Crumb Cake
Serves 6 to 8
Crumb Topping:
½ cup sorghum flour
½ cup packed brown sugar
½ cup walnut pieces, lightly toasted
1 teaspoon ground cinnamon
¼ teaspoon kosher salt
4 tablespoons unsalted butter, cubed and chilled
Cake:
1½ cups sorghum flour
½ cup potato starch
2 teaspoons ground cinnamon
1½ teaspoons xanthan gum
1¼ teaspoons baking powder
1 teaspoon baking soda
¾ teaspoon kosher salt
1 cup plain, full-fat yogurt
½ cup cane sugar
½ cup sorghum molasses
½ cup olive oil
1 tablespoon vanilla extract
3 eggs
1 cup mixed berries
1 teaspoon potato starch
1. Heat oven to 350°. Line an 8"or 9" square baking pan with parchment paper; set aside.
2. To make the topping, pulse flour, sugar, walnuts, cinnamon, and salt in a food processor until coarsely ground. Add butter and pulse into pea-sized crumbles; reserve in refrigerator.
3. Whisk together flour, potato starch, cinnamon, xanthan gum, baking powder, baking soda, and salt in a large bowl.
4. In a separate bowl, whisk together yogurt, sugar, sorghum, oil, vanilla, and eggs until combined; add to dry ingredients and stir until a smooth batter forms.
5. Toss berries in 1 teaspoon potato starch and fold into the batter. Pour into prepared pan and spread crumbs evenly over top. Bake for 40-45 minutes, until a toothpick comes out clean when inserted into the middle. Cool 30 minutes before serving.