Refreshing Summer Salad
A favorite hot-weather treat, watermelon is the star of this refreshing dish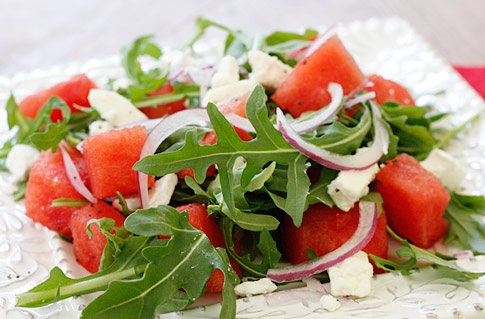 As we sadly come to the close of restaurant week, I'm sure all of us could use with a few lighter refreshments to balance out the heavy, rich, delicious overload of 3-course meals we've basked in over the past several days.
While I thought this concoction was the result of my own culinary chic, it turns out that Ina Garten of the Food Network had already made it. Sigh. Well, maybe I get some points for trying and/or creativity:
Watermelon, Feta, and Arugula Salad with Honey Dressing
1/8 of a fresh watermelon, cut into 1-inch cubes
6 cups of baby arugula (about one box from the grocery store)
12 oz feta cheese, crumbled (I have also substituted fresh goat cheese for a milder flavor)
For the dressing:
1/4 cup lemon juice
1/4 cup olive oil
2 tbsps honey
Salt & pepper to taste
Whisk together the lemon juice, salt, pepper, and honey. Slowly add the olive oil and whisk until dressing comes together. In a large bowl combine the watermelon, feta, and arugula. Drizzle the dressing over the top and toss to combine. Serve immediately.
Sidenote: In the Ina Garten recipe, fresh julienned mint is added to the salad. Although I have never personally added it, I am sure the fresh "zing" of the mint plays well off the other flavors in the salad. Get creative — try adding chopped toasted pecans for a crunch or candied oranges for a chewy accent.
Do you have a favorite summer salad?