Remember Me
Meaningful ways to remember a lost loved one at your wedding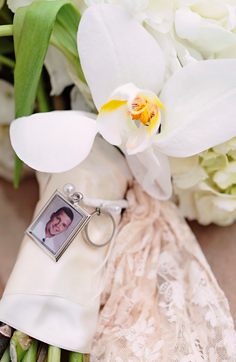 It is, of course, every bride and groom's wish to be surrounded by each and every loved one when it comes time to say 'I do.' But unfortunately that concept will rarely be a reality. For those looking for a unique way to recognize a friend or family member who is no longer living, we've come up with a few ideas for doing so. As a side note, however, you should keep a few things in mind before choosing to do so. If the death is too recent or painful, you may want to think twice about this concept.Though in theory it is lovely to keep that person in mind during the ceremony or reception, if it is going to cause waterworks or put a damper on your evening, you may want to hold off on incorporating one of these ideas into the wedding day. Also remember that certain methods of paying tribute bring the very personal matter of death into a public arena. Should you choose an overt way to honor your loved one, it's best to give friends and family who were close to said person a heads up that you're doing so. The key for honoring a lost loved one is tastefulness and discretion. You wouldn't wish to offend guests nor put a damper on the day for them, so in this case, less is more. This gesture should be symbolic rather than glaring.
1. A silent moment
Have your officiant incorporate a brief moment of silence to honor the person(s) just after your walk down the aisle. In place of a spoken acknowledgment, you can have your own private moment of reflection.
2. Specialty Favors
Guest favors makes the perfect opportunity to incorporate an item special to the person you wish to honor. Choose a bakery or candy shop he or she would always frequent and fill small bags with his or her favorite treats.
3. Make a donation
Swap out guest gifts and make a donation relating to the person you wish to honor. For instance, you may add a short line to the program explaining that in lieu of gifts, a donation has been made to The American Cancer Society. Just be sure to keep the note brief and discrete.
4. Bouquet charm
Have a locket charm made with a photo of the person you wish to remember and give it ahead of time to your florist. She will attach the charm to the bottom of the bouquet. This way you can walk down the aisle with a piece of that person. Don't forget to have your photographer take a picture of the bouquet.
5. Photo table
Arrange a small round or banquet table displaying a few photographs of the loved one you wish to honor. You can also add a few of their favorite things. For instance, flowers he or she favored or a dish of his or her favorite mints or candy.
6. "Something Old"
Incorporate an inherited item into the ceremony or reception. A few examples: a piece of jewelry to wear, champagne flutes for the cake cutting toast, his or her favorite drink as the signature cocktail for cocktail hour.
7. Play a song
Make a note to the band or DJ to play the person's favorite song (or one that had special meaning to the two of you) during the reception. Dance with someone who was also close with that person for the song.
8. Walk alone
Should you be honoring the loss of your father, opt for walking down the aisle alone. Your ceremony escort is a sacred tradition. Honor him by not allowing anyone else to fill in for that role.
9. Incorporate the great grandchildren
Should you be honoring a grandparent, have your florist create a garland of his or her favorite flowers (or something in white) and have the great grandchildren walk down the aisle holding the garland. This is a beautiful and adorable way to pay tribute.
10. Give a few words
Be it spoken by your, your husband or your officiant, have a few words memorized to say during the ceremony or reception. Again, keep it brief and discrete. If you're worried about getting choked up, passing along the task to your officiant is a good option.