Renovating Modern
Thirteen years ago it was considered the ugliest home in Charlotte. But once the Pooles got their hands on this midcentury modern gem, it morphed into a perfect home for the stylish couple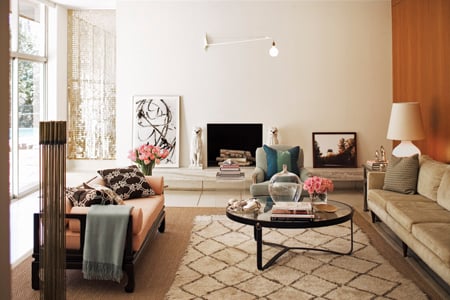 Back in 1997, Perry Poole's brother-in-law drove him by what his in-law called "the ugliest house in Charlotte." The hard lines of the five-bedroom midcentury modern home coupled with outdated windows and an overgrown yard made it more of an eyesore than a diamond in the rough in the up-and-coming Foxcroft neighborhood. Unfazed, architect Perry and his wife, Laura, who co-own the Capitol and poole shop clothing boutiques in SouthPark, fell in love with the home. "We absolutely loved the bones of it," says Perry.
Over the next few years the couple watched the property, driving by occasionally to see if a for-sale sign had been planted in the front yard. Finally, in 2003, the home went on the market, and the Pooles scooped it up. But before moving in, major renovations needed to take place. For starters the floors were rotted, the windows needed to be replaced, asbestos throughout the home needed to be removed, and part of the layout needed to be reconfigured. Instead of hiring out the dirty work, Perry spent nine months pulling up shag carpeting over linoleum flooring, putting up drywall, and tearing down a few walls, which revealed that the entire home was supported by a steel frame. It turns out the home's original developer and owner, William Little, wanted to build himself a modern, steel-frame home. In 1957 Little enlisted architect Harold Cooler of Crosby and Cooler, and the 6,000-square-foot home was finished in 1960, complete with a steel frame and non-load-bearing walls made of brick and concrete masonry.
Finally, in December 2003, the Pooles moved in. Though part of the floor plan has changed, the couple kept much of the interior aesthetic the same. The original terrazzo flooring remained, as did the dining room island with its original cabinetry and hardware, which has since been painted white. While the brick façade of the family room fireplace was removed, the Pooles kept the focal point and added their personal touch with a custom-designed limestone exterior, which Perry designed.
The home is appropriately filled with midcentury modern furniture, artwork, accessories, and pieces that the couple has amassed over two decades. "Collecting is my hobby," says Perry, who for years has frequented antique shops, flea markets, and auction houses such as Sotheby's, Wright, Tajan, and Christie's to find the perfect pieces. "Over the years, I kept trading up. Every time you buy a piece you think you'll have it forever, until you find the next one and you trade it in."
Today, after the serious renovations and invigorated interior, the couple feels that the home suits their eclectic and fashionable style. "The house made us buy it," says Perry. "I didn't care where this house was in Charlotte. We had to have it."