Repurposing Pro
A Mooresville resident shares her tips for transforming undesirable furnishings into new-to-you creations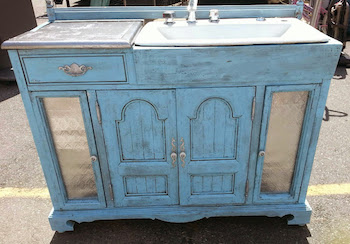 Some of us like the idea of repurposing in theory, but when we set about to do it, we get overwhelmed. Andrea Hartley, a Mooresville resident, DIY crafter, and Metrolina ReStores blogger, shares some advice and a few ideas on how to get started. (Answers edited for clarity and brevity.)
Charlotte at Home: How did you get into DIY and repurposing projects?
Andrea Hartley: My mother and grandfather always did it my whole life. They were always dragging home stuff. We (my husband and I) moved to Charlotte to go to college; we didn't have a lot of money. I did that for my own house and family. I was in the Mooresville ReStore, and a worker there said, 'You look like a crafty person. Why don't you try out for our designer challenge?' This past one was my third challenge. (Read more about the ReStore ReStyle challenge here.)
CH: What advice do you have for someone who might go into the ReStore and get overwhelmed by all the options?
AH: I really enjoy giving something a second life. I tend to head toward things that are in very rough condition or something that I know that I could completely transform. I just look for things that have a good silhouette, good lines. I try to look past and ignore junk and try to envision different colors and how it would be used. With a lot of older pieces, they have tiny decorations and details that have so much potential. So much good can come out of it.
CH: Where do you look for inspiration? Where do you start?
AH: It can be overwhelming sometimes. A lot of times, I just Google. I would Google, "repurpose solid wood door" and hit images and see what images pop up. Sometimes I see a direction that's really cool and say, 'I like how they did that.' Now I sell my stuff in a store (The Rumor Mill Market in Davidson). Within our little community, we can ask, 'What can we use this for?' Sometimes you bring something home and have no idea what to do with it, but it's cool.
CH: What trends in restyling are you liking these days?
AH: Right now chalk paint is huge. With our climate here, the high humidity doesn't let it dry right, so it crackles, but sometimes that works for me. It reminds me of the old lead paint; it just covers, and it's simple to use. Blues and navies are a big hit with gold accents. Mid-century modern is making a comeback, anything with bold, angular lines.
CH: Why is it a good idea to consider repurposing instead of just buying something new?
AH: Repurposing is great; you're giving something another life. I support ReStore so much because they do so much for the city. They create jobs and build homes and neighborhoods. Even with the designer challenge, neighbors are going to stop and ask why you have a 10-foot metal frog made of electrical scraps in your yard. Now my neighbors are volunteering, helping the community, saving the environment. Otherwise, all of it goes to the garbage.

Hartley gravitates toward more "tragic" pieces, such as this old record-player cabinet.
---

After some repurposing vision, latex paint applied with a "dry-brushing technique," a cast iron sink found at the ReStore for $20, and an old HVAC sheet metal duct (found at the ReStore for $8) run through an embosser machine to look like pressed tin, the piece became a vintage-style vanity and sink.