Resident Culture Brewing Has Found Its Niche
Inside a newer addition to our ever-crowded brewery scene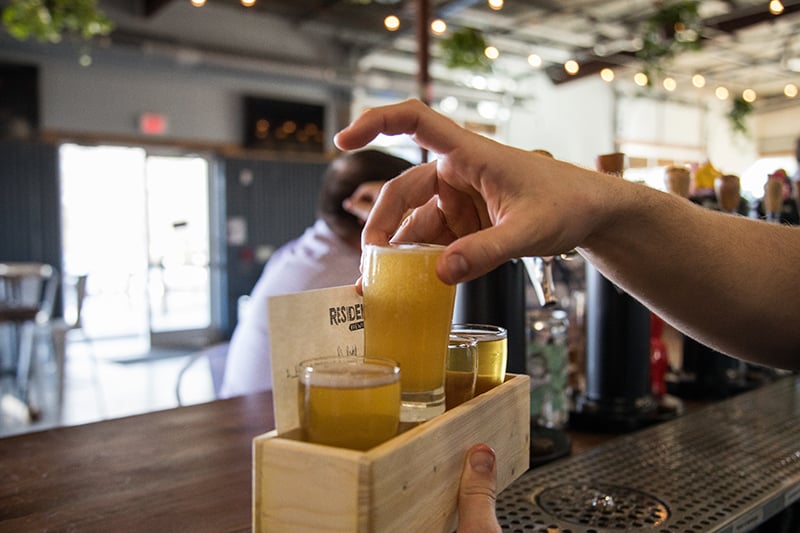 IT WAS JUST after 12:45 a.m. on January 7 when Chris Tropeano received a text message.
A car had lost control on Central Avenue and plowed into the front of Resident Culture Brewing, just feet from where Tropeano, the head brewer there, had numerous barrels full of his beer resting for a later release date.
Almost 1,000 miles away, brewery owner and founder Phillip McLamb was visiting with his wife's family in the Caribbean when he received word from brewery staff members about the car running into the building his family has owned for nearly 40 years.
Tropeano immediately left nearby bar Thirsty Beaver—"Literally, we ran," he says—and spent much of the early morning with a few other staff members helping clean up glass and put up tarps. McLamb, meanwhile, turned on his international roaming and worked to get the necessary information for the insurance company.
A potential disaster that could have closed down the brewery for months ended up being just a one-hour opening delay. Aside from some damage at the front, where the driver hit a steel beam that prevented the car from going any farther inside, it was business as usual that Sunday for a place which has quickly made its mark as one of the top breweries in Charlotte's burgeoning craft beer scene.
"Looking back on it now, it couldn't have been a better outcome," McLamb says. "If (the driver) hadn't hit the beam, he most likely would have come through and taken out our barrels and the walk-in cooler. Luckily, we were all able to laugh about it. Sometimes you've just got to make lemonade out of lemons."
Or, in this case, beer out of wreckage, as Resident Culture released cans of Twisted Metal, a double IPA, a month later as an acknowledgement of the incident.
***
RESIDENT CULTURE'S NAME comes from a line in a book Tropeano read about Belgian beers. In beer terms, "culture" is associated with the yeast, whose main job in the process is beer fermentation. In the book, a specific resident culture was being used to help create a distinctive type of beer.
But there's also a second meaning behind the name, referring to the importance McLamb and Tropeano place on being a neighborhood brewery.
"We really loved this area," says Tropeano, better known as "Tropes." "We really hoped that we could be a part of this great culture we have in Plaza Midwood, and have been blown away with how many people have come by to try our beers."
"This is why we didn't tear down the building and sell to apartment developers," McLamb says. "We thought this could add a cool space, and the neighborhood reception has been amazing."
McLamb's family has owned the one-acre site at 2101 Central Avenue since the early 1980s. It was once a printing company and, most recently, a warehouse logistics business. McLamb's father wanted to sell the site a couple of years ago, before Phillip stepped in with an idea to turn it into a brewery.
While NoDa and South End have been the dominant locales for Charlotte craft beer, Plaza Midwood was an untapped neighborhood, save Legion Brewing, which opened in 2015. McLamb got to work with architects to redesign the building and turn it into a 14,000-square-foot facility that includes a 15-barrel brew house (nearby Legion has a similar size system, while some of Charlotte's older breweries, including NoDa and Olde Mecklenburg, are operating on 30-barrel systems), barrel room, taproom, and outdoor patio and beer garden. Of course, the brewery also needed a head brewer.
Around the same time, Tropeano, a Wake Forest graduate who was brewing at the world-renowned Russian River Brewing Co. in California, wanted to move back east. Tropeano already had ties to Charlotte; his aunt and uncle, Kara and Tom Taddeo, own VBGB and 8.2.0. Once hired, he quickly got to work at Resident Culture, with a wide variety of styles to start.
"Our original plan was to brew beers we liked—hoppy beers and lagers—and it just so happens everyone else likes them, too," Tropeano says. "I knew the hoppy beers would sell well; go to any brewery in the country and they'll tell you the IPA sells best."
On one visit to Resident Culture in January, three of the beers that were sold out and crossed off on the chalkboard were IPAs. The brewery was also the quickest in Charlotte to begin canning, and has released seven cans in just five months. Since opening Labor Day weekend 2017, the brewery has struggled to keep up with demand. Three months after opening, Resident Culture was already ordering additional equipment to help with the beer-making process.
"We had high expectations, but we didn't expect to be as popular as we were right off the bat," McLamb says. "But actually, it was great for us. It threw us into the fire, and we saw what we needed to do to make this space and experience you have when you come into Resident Culture amazing."
Tropeano quickly won over the local beer crowd with his IPAs, such as Rick Danko and Vicky Virago, which are full of crisp citrus notes. At January's NC Rare Beer Festival in Durham, people from across the state lined up to try a number of Resident Culture's offerings, including Perception Check, a double IPA that shines with a smooth, tropical taste.
But it's not just IPAs getting the praise. Resident Culture has also received great response to its Re-Up pilsner and Tin Can Annie lager, which pleases Tropeano more than anything.
"I was a little nervous that they wouldn't sell well; personally, those are my favorite styles to make and drink," he says. "But I found that there's been a good reception from both the craft beer drinkers that know brewers love pilsners and can appreciate the nuances and subtlety, and it's also a good gateway beer for people who aren't as into these big hoppy flavors."
Resident Culture is also the first local brewery to employ a coolship, which is a large, open-air vessel used for spontaneous fermentation of beer (Catawba Brewing's Charlotte facility now also employs the open-air fermentation tanks). First used in Belgian breweries, a coolship's function is to cool beer and inoculate it with local wild yeast in the surrounding open air (Resident Culture's coolship room has open-air vents). Tropeano did the brewery's second coolship transfer a few months ago—about 50 people showed up to watch—and that beer now resides in barrels, where it will sit for at least a year before being bottled.
"It's a hard beer to justify from a financial perspective because of the time, but to see the excitement and buzz around it justifies the decision to invest in the equipment," Tropeano says.
Before the brewery opened, Tropeano foraged flowers, tree bark, and soil from around the property and sent those off to a lab, which isolated the wild strains from the samples, then sent them back as a plated yeast culture. The goal is to create a series of blends and brew several wild beers using only that yeast.
"It's a way to differentiate yourself from the other breweries in town," Tropeano says. "I'm really excited to see what our wild natural yeast in Charlotte can produce in terms of beer. No one's done that before.
"Customers can say this is a Plaza Midwood beer we're drinking—literally."