Restaurant Now Open: 204 North in Uptown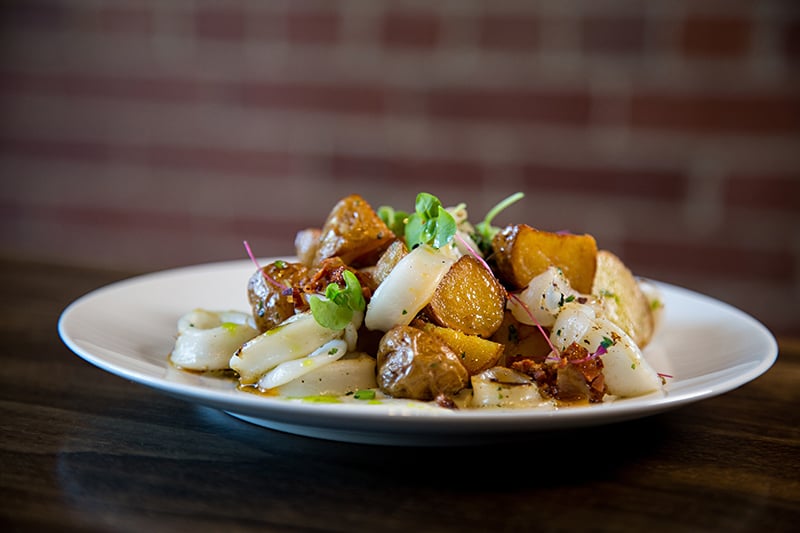 THE TONGUE-IN-CHEEK MESSAGE written on a chalkboard and hanging against a brick wall says a lot about this place—Soup of the Day: Bourbon.
It's a sweltering Monday night in June, and that's a soup I want to try. I'm sitting in a leather chair against the black steel bar at 204 North Kitchen and Cocktails on Tryon Street in uptown, the type of restaurant that serves many needs. Next to me is a guy in town on business who's having dinner at the bar, alternating his gaze between emails on his phone and a preview of the NBA Finals on the TV above the liquor bottles. Farther down, a trio of mid-30s women drink wine for girls' night. Past them is a couple on a date.
Bartenders in gingham shirts and olive colored aprons mix craft cocktails ($12) that are strong and interesting without being fussy. I unbutton my collar, loosen my tie, and settle in with my drink. It's been that kind of day. I've chosen the Trade Street, the restaurant's take on a manhattan, stirred in a mixing glass and strained into a coupe glass. I empty it quickly.
Keeping with the theme, I switch to The Banker—a classic old-fashioned— and slow down a bit while I consider food.
The menu emphasizes Carolina flavors, along with a few nontraditional surprises. The calamari ($10) evokes Spain, is prepared on a plancha, a flattop grill used in South American cooking, and comes with confit potatoes and chorizo. It is a refreshing departure from the deep-fried squid found on so many appetizer lists.
For my entrée, I order the Heritage Breed pork chop ($23)—which arrives on a bed of classic hoppin' John and wilted greens—crispy on the outside but moist in the middle. I'm especially interested in the smoky potlikker that's been ladled into the bottom of the bowl.
204 North still has some improvements to make—my calamari spent a minute too long on the grill, and I wanted a steak knife instead of a table knife to cut my pork—but they are relatively minor and overshadowed by the strong bar program and warm service. Don't miss the fruit tartlette for dessert ($9), paired with a black pepper ice cream that is smooth and creamy at first, giving way to the heat and bite of the peppercorns. The fruit alternates with the season (mine comes with roasted peaches), as do a number of other items on the menu.
Happily, the bartender tells me that the chalkboard sign never changes. The soup of the day is always bourbon. That's the kind of consistency I can embrace.
204 North
204 N. Tryon St.
704-333-3747
Entrées: $14-$26
---
This article appears in the August 2016 issue of Charlotte Magazine
Did you like what you read here? Subscribe to Charlotte Magazine »
---