Review: Gimmicks, Fussiness Overshadow Zeppelin's Potential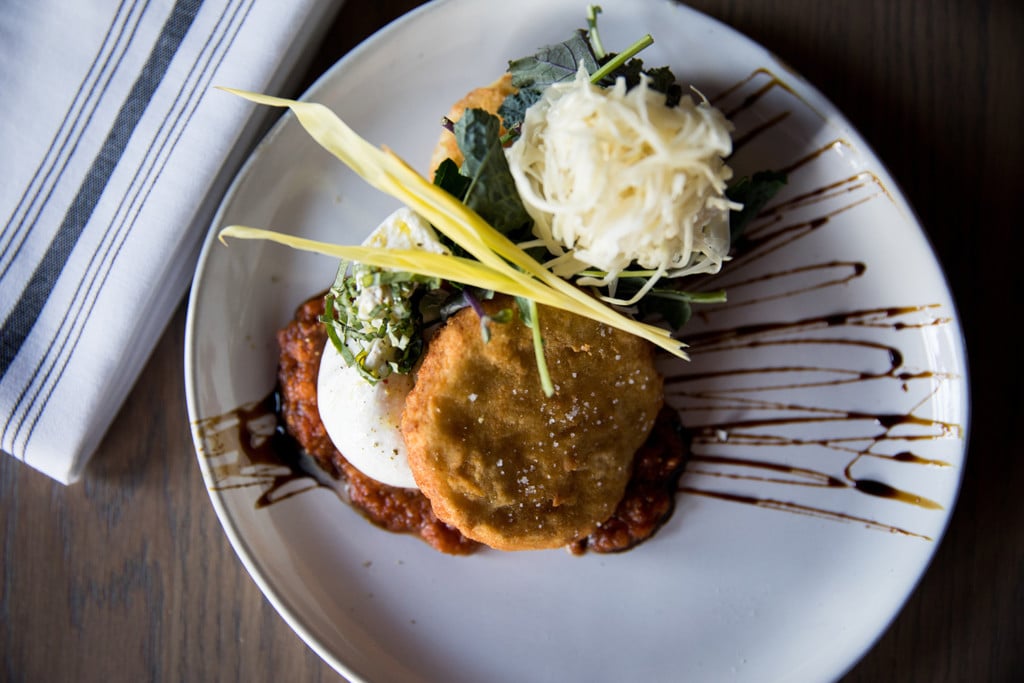 I'M SANDWICHED BETWEEN two couples on dates, the women on my left and right pivoted on bar stools to face men on their opposite sides. The pairs arrived as I took another sip of my cocktail at Zeppelin, an early 1900s-themed restaurant and bar in South End. As they settle in, the bartenders scramble to prepare their drinks—elaborate creations that are new takes on classics. The restaurant isn't packed, but busy enough that patrons wait a spell as the two guys in chambray coats work behind the bar.
The drink I'm halfway through is the Ferdinand's Friend ($14), a spin on a Negroni made with reposado tequila, grilled shishito pepper-infused vermouth, Campari, and garnished with a torched pepper. Its flavors marry well—tequila rounds off Campari's bitter edges, and the smokiness from the peppers doesn't overpower.
I've ordered from the restaurant's spring menu: a small plate of diver scallops ($18) basted in honey butter and served with gem lettuce, shaved watermelon radishes, bacon bread crumbs, and Parmesan on top of a celery root purée. Scallops don't take long to cook properly—90 seconds, maybe—so I'm perplexed as the minutes drag on while I wait for the plate to arrive from the kitchen. When it does, I'm delighted by the dish. The scallops are expertly seared on the outside, sweet and tender in the middle. They complement the veggies and the silky purée. I savor every bite.
Cocktails include the rye whiskey-based Persephone's Plight; a smoked old fashioned; and the Ferdinand's Friend, a take on
a Negroni.
Zeppelin shines when its chefs and bartenders aren't too precious—something I understand when I contrast this experience with a previous visit.
I went with friends not long after the restaurant opened, around the beginning of the year, and we were frustrated by Zeppelin's tendency to ignore basics in favor of gimmicks. A bartender could assemble cocktails from the house list, but didn't know how to make an Aperol spritz or a Dark & Stormy, two staples with minimal ingredients. His unapologetic response was off-putting, especially in a restaurant's opening months, as it attempts to build a loyal following.
The fussiness extended to our dinner. Take, for instance, the butternut squash hummus ($12), which is deconstructed to the point of annoyance—four components to assemble before taking a bite. Buttermilk fried chicken ($23) came garnished with wildflower honey, habanero vinaigrette, and pickled mango, but was a greasy disappointment.
Our group loved the calamari ($11), however. Its Asian influences of Korean chile, pickled bacon dashi gel, and yuzu are an interesting departure from the common lemon and aioli presentation. The breading is crisp and the squid not at all rubbery. I've ordered it on every subsequent visit and have enjoyed it each time. We also liked the fried green tomato caprese ($12), our forks fighting for pieces of sumptuous local Uno Alla Volta burrata drizzled with a sorghum-balsamic reduction.
Charlotte's evolving food scene is great for diners. But restaurants that try too hard often fail their guests, as Zeppelin does with its gimmicky dishes and drinks. Most of us would rather have something interesting—the tequila Negroni or the Asian-influenced calamari or the scallops—prepared exceptionally well every time than something that seeks to be innovative just for the sake of being different.
---
ZEPPELIN
235 W. Tremont Ave., Ste. 100
980-209-0008
Small plates: $8-$20
Entrées: $18-$36