Review: Photography Exhibition 'Don't Wait Till It's Cool' a Document of N.C. Culture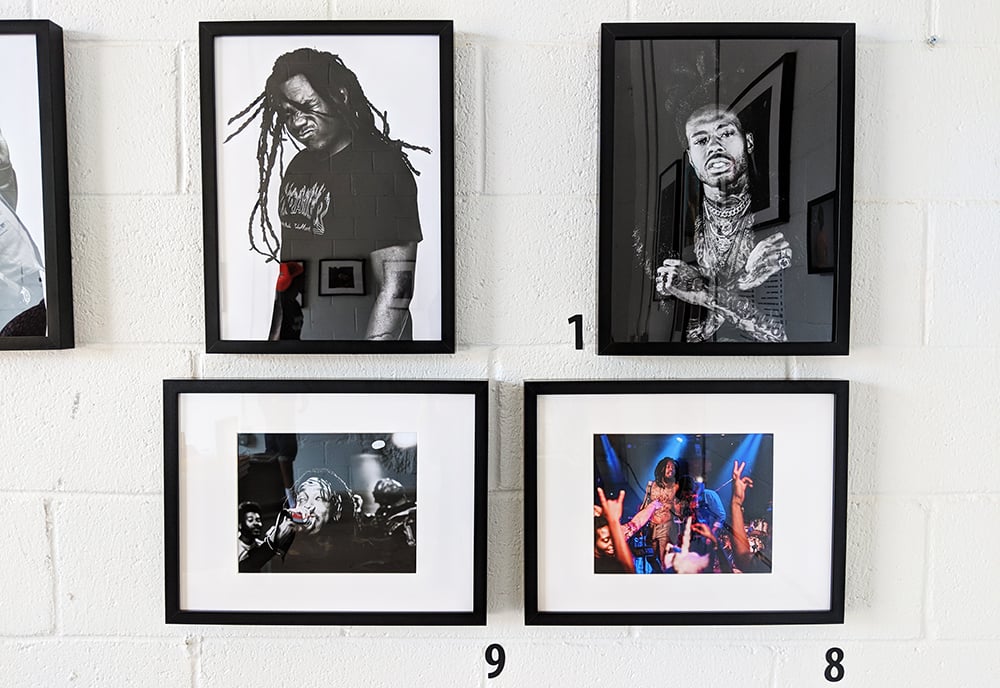 THE TITLE of the photography exhibition Don't Wait Till It's Cool has a particular resonance in Charlotte, where the city's inherent "coolness" is debated more often than how its systems can strengthen culture. This exhibition from North Carolina Always shows that this city—and further, the entire state—has an existing community and vibrancy that hasn't waited for everyone else to take notice. At this stage, Don't Wait Till It's Cool exists in two installments: a one-day event at Camp North End's BlkMrkt this past Sunday and another brief, public space installation in Durham on July 20.
The exhibition, to put it simply, is a showcase of North Carolina photographers documenting North Carolina hip-hop. The 15 visual artists include stand-outs Kevin "Surf" Mitchell, Joseph Headen, Saloan Goodwin, Tre Bravo, and David Butler of Analogue Luxury, who also collaborated with curator Chanel A. Nestor of North Carolina Always to make this project happen. Captured performers include 9th Wonder, Lute, Elevator Jay, Deniro Farrar, Well$, and several others: These are performers who have spent more than a decade building the state to be a hotspot of hip-hop activity, garnering national headlines while these artists in Charlotte say venues won't book shows of their genre. And alongside them, visual artists have worked and documented.
The photographs traverse the hip-hop scenes in both portraiture and shots from packed venues in the Triangle region of the state. Flipbooks with throwback, small-format prints show former clubs, such as Tremont Music Hall, that once hosted these shows. The title of the exhibition comes from an Elevator Jay quote: "Don't wait till it's 'cool' to rep the Carolinas," both a statement of pride in what's here and of caution in our potential to overlook this activity.
Organizers are positioning this as a touring exhibition, with an eye on rural areas with an audience possibly unfamiliar with or disconnected to these urban music and visual arts communities. These stunning archival prints—paired with promotional playlists with featured rappers—also indicate another potential venue in museums, whose curators should be clamoring to have this multimedia document of North Carolina culture on their walls. It's too late to see this first edition of Don't Wait Till It's Cool, but if local arts organizations are wise, it won't be its last appearance here.
---
ALSO ON VIEW THIS WEEK:
Liz Nielsen's new photograms at the SOCO Gallery show Tracing the Azimuth are on view for another two weeks. See a past review of her work here.
The stirring Black Blooded at New Gallery is still running, with consistent programing around the group show. Read my review of it here.