Review: SouthPark Grill's Classic Menu Tasty, But Lacks Personality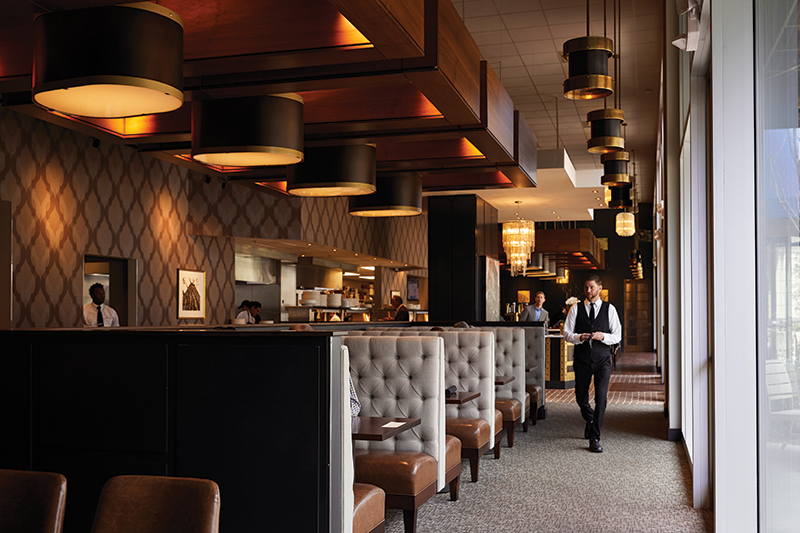 TWENTY-FOUR OUNCES of beef arrive in front of me, and I can't help but stare at the massive rib eye, drenched in gravy and surrounded by fingerling potatoes. Typically, I'd order 10 ounces, maybe 12 tops, but it's my birthday and I love steak.
My friend Emily and I sit in a cushy, tufted booth at the classy SouthPark Grill, each sipping a glass of cabernet sauvignon called The Stag ($13) from California. The restaurant has the feel of a hotel lobby—sophisticated, but sterile, complete with a glass revolving door. There's a casual patio outside and folksy music from City and Color lulls diners as it plays from speakers.
Restaurateur Greg McIntosh, known for his beloved McIntosh's Steak & Seafood that closed in 2009, opened SouthPark Grill a year ago. The grill, located in the Capital Towers on Congress Street, took many cues from diners' favorite dishes at McIntosh's, while adding new life to classic ingredients.
For our appetizers, we order smoked salmon ($12) and fried lobster bites (market price). The tempura batter coating the lobster is light and reminds me of fish and chips, but lacks seasoning. Dipping the bites in the provided honey mustard or ponzu doesn't help much. Though the server assures me the sauces were made in-house, they don't taste it, or look it. The honey mustard is so yellow, it could be a supermarket brand. The house-smoked salmon is fresh and balances well with the provided toast points, rich horseradish sauce, and dill. Even when there's only one slice of salmon left, and no toast, we don't let it go to waste; it's too good.
Now, back to that steak (market price). It's a beautiful dish, bone-in with pops of color from green onions sprinkled on top, and cooked medium rare—just how I ordered it. The meat is thick and takes effort to slice into, but each bite is tender, juicy, and well-seasoned. It's too big for just me—even on my birthday—so I share with Emily. Even so, there's a little left on the bone by the end of dinner.
An orange Grand Marnier cheesecake appears for dessert, courtesy of our thoughtful server. The texture is just right, but it's too sweet, too much like an orange Creamsicle for my taste. It serves as a fine slice of birthday cake nonetheless.
That's the word I keep saying—it's fine. Everything at SouthPark Grill is tasty, and it's clear Chef Andres Moncayo knows his way around a rib eye, but the dishes lack personality.
Just like McIntosh's, SouthPark Grill has the potential to be a local favorite. Its full patio on a Wednesday evening already speaks to that. But in order to match the high bar set by McIntosh's—and the culinary advances that have happened in the city since it closed—the classic American dishes need creativity, passion, and more seasoning.
When I'm inspired by food, I don't want to share—even if it's double the amount of steak I'd normally order and I was stuffed many bites ago. But for this dinner, I leave feeling content—not too full, feeling simply fine.