REVIEW: The Loyalist Market in Matthews
Expertly crafted cheese boards await in this laid-back Matthews locale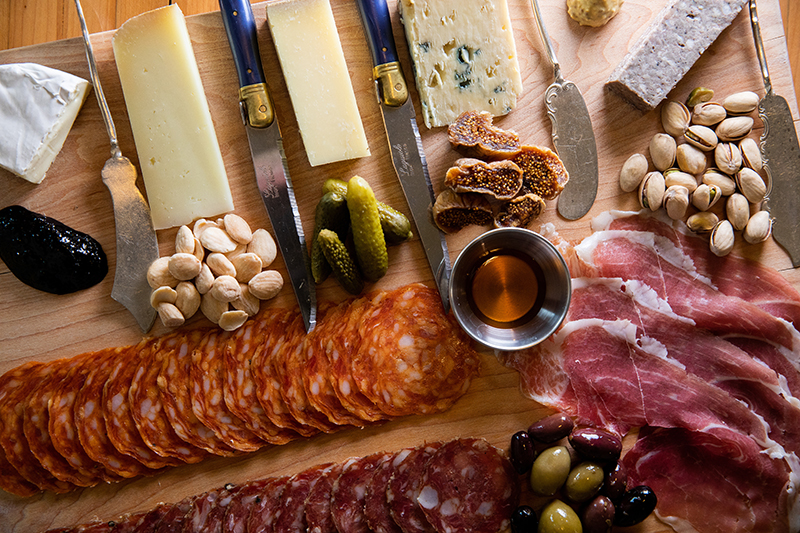 "ANY OBJECTIONS?" a server asks after taking my order for a cheese board. What a silly question.
I give her some of my preferences—harder cheeses like pecorino Romano over brie—but cheese is cheese. I have no objections.
On any given day, The Loyalist Market offers more than 40 cheeses and 20 charcuterie options, and owner Chris Sottile can tell you about each of the selections displayed in the glass case. "I get chocolatey bacon notes," he says, as if he's just taken a bite of the Bayley Hazen Blue cheese. "A little bit of licorice and earthy notes on the back end … It's got a little bit more funk on it than some."
I sit at a stainless steel bar top a few stools to the right, trying each cheese ($14 for three) with its snack pairings: a bourbon nib brittle to balance the funk of the blue cheese, dried apricots with Midnight Moon Gouda, and marcona almonds with a Grana Padano. The platter comes with multiple knives, chosen with the texture of each cheese in mind; one, a silver antique knife designed for softer cheese like the blue, is so ornate your grandmother would have reserved it for special occasions.
Yet the atmosphere is casual. It's Super Bowl Sunday, so the TV is tuned to pregame coverage of sportscasters predicting the winner, Patriots or Rams. At one point, my server asks me how Venmo works; it's her first time using the cash-sending app, and she needs to pitch in for a pricy stroller for her niece's baby shower. We work through it together.
Sottile and his team make me feel like part of the family, fast. And what do families do when they're together? Eat.
I order two more plates. My server urges me to wait before I try the Devils on Horseback ($7)—they'll burn your mouth, she says. So I turn to the pork and chicken liver mousse ($14) and spread it on toasted bread from Nova's Bakery, then top it with a thin layer of cranberry chutney. The truffles in the mousse aren't overpowering, but they're definitely the star—earthy and rich, a palatable contrast to the sweet tang of the chutney.
I bite into a little Devil about five minutes later, and it bursts like a grape, gushing bacon and chorizo juices. It's worth the wait; it's near impossible to appreciate the flavors of a bacon-wrapped date stuffed with Mexican chorizo and Manchego cheese with a burnt tongue, I presume.
On another day, I stop by for lunch and order the Reuben ($13) and fig and pig salad ($9), both filling (and tasty) enough to stand alone. Still, the cheese remains my favorite.
I usually avoid cheese boards when I'm reviewing a restaurant. At so many places, they're good because cheese is good; the taste has little to do with the staff's expertise. How hard is it to slice cheese and arrange it on a wooden slab?
"Most people just put everything on the board, make it look pretty, and then they drop it on your table, and they're quick to run away," Sottile tells me a few weeks later. "No one's really taught them anything about (cheese)."
He's not saying this as a slight. Sottile, who worked in food distribution prior to opening The Loyalist Market in 2017, treats his cheese boards as an art form. He studies each cheese, visits the cheesemakers who craft them, inspects each wheel's notes like a glass of fine wine. But, he adds, there's no wrong way to eat cheese.