Ringing in the New Year
BLT Steak is celebrating the Chinese New Year with some tasty treats AND a new recipe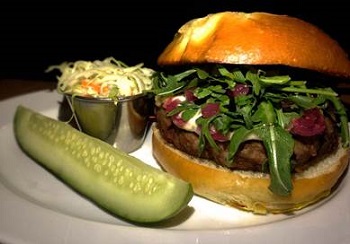 The Chinese New Year is just around the corner, and the year of the sheep is being celebrated in a tasty way by BLT Steakhouse in Uptown. The restaurant will be highlighting two dishes: the lamb kotleti burger and the rack of lamb. The rack of lamb, which is self-explanatory, is two double cut racks of lamb – also available on the daily menu at BLT. The burger, a special available on February 19, features lamb kotleti cushioned on a pumpernickel bun with horseradish yogurt and pickled red onions.
Of course, with the impending "snowstorm" tomorrow, you may need to take matters into your own hands – and the chefs at BLT have been kind enough to share the recipe for their lamb kotleti burger with us!
Ingredients:
1 lb. ground lamb
1 slice rye bread, toasted
1/8 cup milk
1/2 small onion, grated
1 egg
1 tbsp sour cream
1 tsp salt
1/2 tsp pepper
1/2 cup flour, for dredging
oil, for pan frying the kotleti
2 cups Greek yogurt, mixed with drained grated horseradish and seasoned with salt and pepper
pickled red onion
pumpernickel bread
Instructions:
1.Prepare the lamb kotleti by soaking the rye bread in the milk until soft.
2. Pulse in the food processor. You can also puree the half small onion in the food processor or use a box grater.
3. Add to the ground lamb.
4. Add the egg, sour cream, salt, and pepper. Mix to combine.
5. Use damp/moistened hands to shape the kotleti, otherwise they will be too soft to handle. Keep moistening your hands every time you make another kotleta.
6. Dredge the kotleti in the flour, brushing off the excess.
7. You should have about 4 kotleti and cook until golden on both sides, approximately 3-5 minutes per side. Frying it in a fryer gives it a nice fried chicken effect.
8. Serve lamb kotleta topped with horseradish yogurt and pickled red onion on a pumpernickel bun.
Bundle up, stay warm, stay full, and ring in the Chinese New Year!