Romance is Served
Cooking for a date night is totally in right now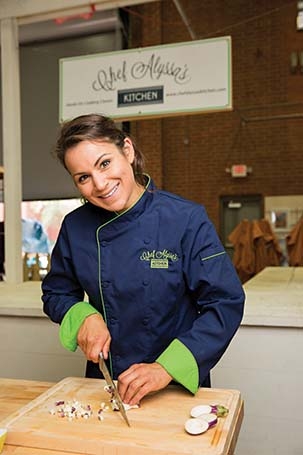 Valentine's Day is a little less than a month away, and we have no doubt there are those among you scrambling for an idea to impress that special someone in your life.
Luckily, Chef Alyssa Gorelick – formerly of vegetarian restaurant Fern – is offering several options around the holiday.
On February 23 and February 24, from 630-9 each night, Chef Alyssa's Kitchen will host a 2-Day Chocolate Workshop. The class is $149 and will teach the fine techniques of making three styles of truffles: Molded – a dark chocolate offering with a coconut melt away interior; Rolled – a chocolate and raspberry ganache; and Dipped – featuring salted caramel. Chef Alyssa has specially partnered with pastry chef and chocolatier Pierce Lusk who is currently the lead chocolatier at Petit Phillipe off of Selwyn Ave. in Charlotte. Pierce graduated from CPCC culinary school and later attended their baking and pastry program. You can sign up for the classes here.
Earlier in the month, Chef Alyssa's Kitchen will host three Valentine's Day classes. Unfortunately two have already sold out, but one – taking place on February 14 from 3-530pm is open. The class is $130 per couple. Each couple will create a salad, seared scallop entree, and sea salt dark chocolate cremeaux.
Last but not least, for those who haven't quite found that special someone to celebrate holidays like Valentine's Day with, Chef Alyssa's Kitchen will be featuring a Speed Dating Cooking Class to take place on Wednesday, February 11, from 630-9pm inside Atherton Market; cost is $60 per person. Reserved for 10 guys and 10 girls between 25-35 years old, as pairs, the men will rotate tables and each time will be making five Mediterranean-inspired courses. If you do meet someone special at the event, you are welcomed back for a free cooking class anytime in 2015. If the speed dating doesn't quite go as you planned, at least you'll leave with a meal and cooking experience.