Ron Green Jr.: A Look Back at Charlotte's Sports History
With the PGA Championship at Quail Hollow this month, a Charlotte native and longtime sportswriter reflects on the city's growth as a sports town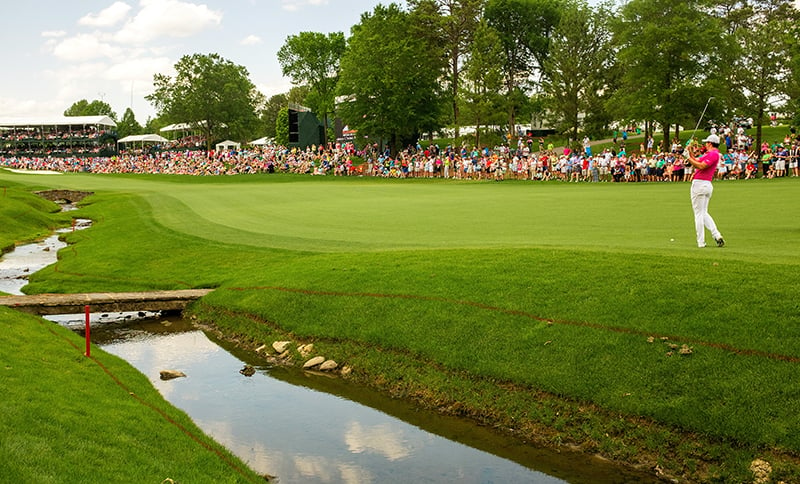 ON A WARM SUNDAY in mid-June 1969, Arnold Palmer stood in the 18th fairway in the final round of the Kemper Open at Quail Hollow Country Club surrounded by what felt like every beating sports heart in Charlotte.
I was a starstruck 12-year-old, caught up in the tingle of the moment, Palmer having charged into contention at the very end, his gallery swelling through the early afternoon until it ringed the 18th hole, seven or eight deep in places.
My father, a sports columnist for the now long-gone Charlotte News at the time, took me to the Kemper Open every day and let me hopscotch around Quail Hollow, following my favorite players while marveling at how good they were at a game I was just learning. A few years later, I wore the official tournament volunteer uniform while doing my duty keeping the press tent neat by sportswriter standards. The tent really was a tent back then, with whirling fans to move the summer heat around.
The professional golfers I watched—Palmer, Tom Weiskopf, Miller Barber, and Gary Player among them—were stars, but the sports universe was just a fraction of what it would become.
The 18th hole at Quail Hollow was in the same place it is today, but it's since been redesigned to be more dramatic, more of a theater. The creek that runs down the 18th hole now wasn't there in 1969; that's what happens when a course designer with a healthy budget is given the freedom to create.
There were no corporate chalets lining the left side of the 18th hole then, just a lumpy, grassy slope where hundreds crowded together, hoping for an umbrella of shade from the oak trees while straining to see Palmer finish.
People still smoked wherever they wanted in those days. But I remember that Sunday smelled less like cigarettes than a Charlotte summer—warm and thick, the scent of springtime flowers long gone but the familiar aroma of grass mixing with the sweat stains dampening the cotton shirts everyone wore.
This was a different Charlotte than the one expanding with every pulse beat today. It hinted at what could be.
***
PALMER DIDN'T WIN that year—he shot 66 on Sunday but finished six shots behind winner Dale Douglass—but just his presence gave us a thrill and a taste of what sports at the highest level can do. It was unifying, contagious, and, ultimately, a little disappointing that he lost, but that scene as Palmer finished that Sunday has stayed with me across the years.
I was reminded of it when Tiger Woods won the Wachovia Championship in 2007, with an even larger gallery surrounding the 18th hole at what is now called simply Quail Hollow Club. This patch of land off of Gleneagles Road is where the professional game lives in Charlotte, where everyone from Nicklaus to Woods to McIlroy has played.
When the PGA Championship arrives this month, along with the heat and humidity that drape this city each August, it will be one of the most significant moments in Charlotte's ever-deepening sports history.
For those of us of a certain age—old enough to remember when wrestling matches featuring the famous tag team of George Becker and Johnny Weaver could fill what is now Bojangles' Coliseum with 10,000 fans and a thick cloud of cigarette smoke—this first major championship played in Charlotte feels like a lifetime merit badge. To kids from the 1960s like me, things like the PGA Championship, the NFL, and the NBA happened in places such as Boston or Chicago or Philadelphia. Not here.
If you've moved to Charlotte in the past 20 years, you've experienced some of the growing pains that come with being a pro sports town. Bickering over stadiums and arenas, contract squabbles, coaching changes—we've grown into those.
But for those of us who have been here most of our middle-aged lives, the city's sports adolescence doesn't seem so long ago.
Many people living in Dilworth today probably don't know Griffith Park, a beautifully old-school ballpark made from wooden planks, once sat at 400 Magnolia Avenue, home to the original Charlotte Hornets. Built in 1940, it was our version of Yankee Stadium, with shortstop manned magnificently by Minnie Mendoza, and I can still feel the peanut shells crunching under my shoes.
My dad was the team's public address announcer. He'd wait patiently before the first pitch each night for the general manager to drop the needle on a scratchy recording of the National Anthem that bleated out its familiar melody through the primitive sound system. Some nights the GM was distracted and it took a while before any of us heard "Oh say can you see."
I'm old enough to remember the ballpark had a separate seating section down the third-base line for African Americans. That didn't stop me from roaming around before most games with the son of Buster Sloan, the gentle groundskeeper who kept the grass green and the infield clean—even if he wasn't allowed to sit in the main grandstands.
In 1969, the ABA's Carolina Cougars arrived, though Charlotte shared them with Greensboro and Raleigh. The Cougars gave us our first taste of a big-time pro sports franchise, and when the World Football League brought its reconditioned former NFL players to town for a couple of years in the mid-1970s, we were on the national sports map.
It seemed huge to someone like me, whose World Book Encyclopedia listed Charlotte as a city of 201,564 people.
The "track"—properly known as Charlotte Motor Speedway—has always been there in Concord, even if Charlotte tended to treat racing like a crazy uncle. Like beer and oysters, most Charlotteans of a certain age tried going to a race at least once. Some loved it. Some never got the noise.
Eventually, racing became a part of us, even if it's not for all of us any more than golf or kayaking.
Cornbread will forever have a dual meaning to Charlotteans old enough to remember the UNCC (now Charlotte) 49ers' 1977 run to the Final Four. Cedric "Cornbread" Maxwell became a national star in the process as the 49ers came within a basket of advancing to the national championship game against big brother North Carolina.
It was a captivating run, one that captured the city's hearts and minds the way the Panthers have in their Super Bowl seasons. To those who didn't see that 49ers' team, their spot on the list of Final Four teams seems like a fluke. There was nothing fluky about it.
***
CHARLOTTE'S GROWTH OVER the past half-century has created a new set of issues, as anyone caught on Interstate 485 at the wrong time can attest, but it has also put a rainbow across the skyline. Charlotte has grown into its new self, not always gracefully, but with an eye on getting better.
Even now, two decades later, I smile thinking about how this city loved the original Charlotte Hornets NBA team, which had its first season in the fall of 1988. It was the first time we fell madly in love with a sports team not nicknamed the Tar Heels, and for eight years, the Hornets led the league in attendance, playing in a 23,000-seat arena that sold out for 364 consecutive games.
Friends I grew up with at Plaza Presbyterian Church and Eastway Junior High School (long before middle schools came into vogue) were among the first to put their names on the list to purchase Hornets season tickets. They got great seats, near midcourt, lower level, and they were there almost every game.
It was the place to be, like nothing I could remember in Charlotte. Sunrise came in teal, sunset in purple, it seemed.
The Hornets helped convince the NFL that a team could succeed here, and now the city's mood fluctuates each autumn with the Panthers' performance. As an original PSL owner who has sat through Super Bowl seasons and a one-win season, through hot and cold and sleet and rain, I still pause sometimes and stare at Bank of America Stadium, marveling at how we got here. It doesn't seem too long ago that the annual Shrine Bowl high school all-star game, which was played at Memorial Stadium from 1937 to 2000, was the biggest football game of the year here.
I'm not sure where it's come from, but Charlotte has never been afraid to dream big. People such as John Belk, James J. Harris, Hugh McColl, Jerry Richardson, Judy Rose, George Shinn, Johnny Harris, Mac Everett, Max Muhleman, Humpy Wheeler, Bruton Smith, and others have believed in saying yes rather than no. They must cringe at what HB2 wrought, causing the NBA All-Star Game, the ACC football championship, and other events to leave the city for a time because of the narrow-minded politics of people from other parts of the state.
Maybe Charlotte's self-belief began in the early 1900s when a man named George Stephens bought and developed what is now Myers Park, setting in motion Charlotte's ascension, separating it from Raleigh, Winston-Salem, and Greensboro at a time when there was no dominant city in North Carolina.
Charlotte has never been afraid to follow its own instincts and intentions, and at times the rest of the state has rolled its eyes. Raleigh can claim it's not jealous of Charlotte's success but the cities operate in different orbits. Ask almost anyone who has moved here from Raleigh.
There may come a day when the city is jaded toward big events like the PGA Championship. There are empty seats at most Hornets games and many Sundays when tickets go unused for Panthers games. These are expensive experiences.
Still, Charlotte manages to straddle the line that divides truly big cities from smaller towns. Charlotte is not unmanageable. It's still friendly. And when important things happen, whether it's the threat of snow or hosting a major championship for the first time, there is still a sense of community.
As a student during the turbulent days of forced school busing in the 1970s, I watched the events of last fall surrounding Keith Lamont Scott's death, and they served as a reminder of the work that remains to be done here.
Charlotte has always had an uncommon pride. Maybe it's gotten ahead of itself at times, but it's going in the right direction.
You don't have to be old enough to remember the big Krispy Kreme doughnut shop on Independence Boulevard near Hawthorne Lane or to have seen The Monkees and Jimi Hendrix on a double bill at the original Charlotte Coliseum in 1967 to have a sense of this place.
But if you stood on that grassy hillside looking down on the 18th hole as Arnold Palmer walked up the hill nearly 50 years ago and remember the sensation of the swelling crowd, the warm feeling of seeing the PGA Championship here in August won't come merely from the summer heat.
Ron Green Jr. is a native Charlottean who remembers with pride when the silver-domed Bojangles' Coliseum (forever the Charlotte Coliseum to him) was the largest domed building in the world. A long-time sportswriter for the The Charlotte Observer, he is now senior writer for Global Golf Post digital magazine.
> TIMELINE: A SAMPLING OF MAJOR MOMENTS IN CHARLOTTE'S SPORTS HISTORY