Ron Rivera Doesn't Like His Nickname, But He Still Trademarked it
Riverboat Ron says he hopes to use it to raise money for charity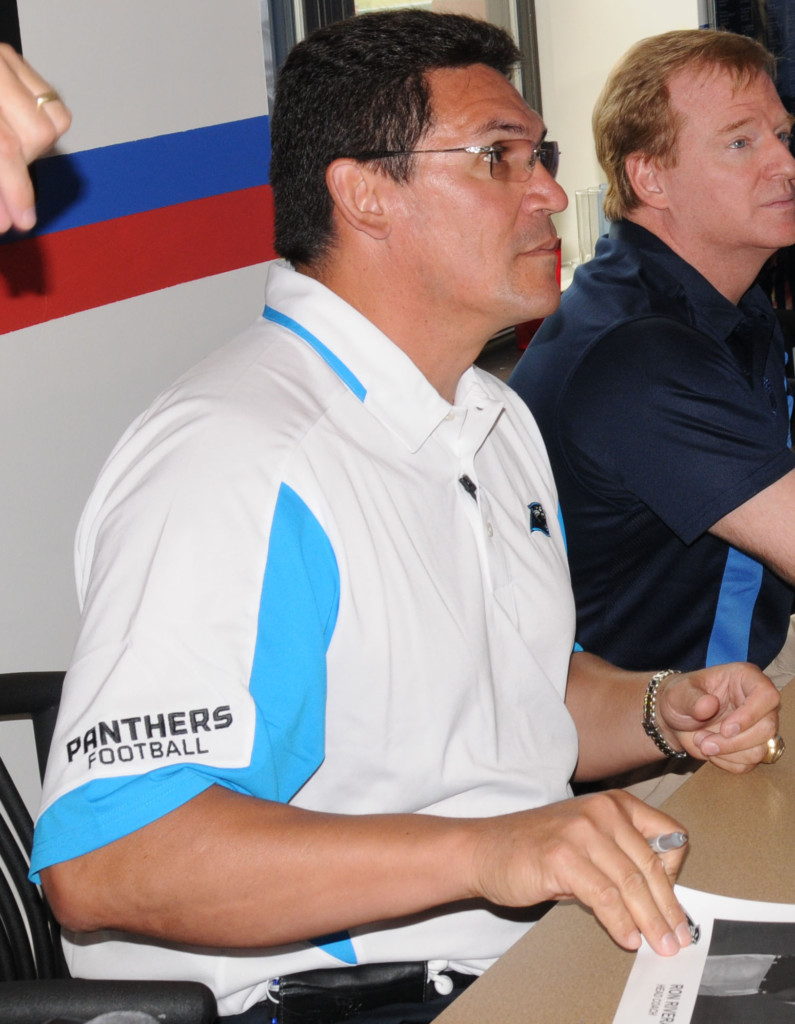 On November 14th, Ron Rivera told reporters he didn't much care for the nickname "Riverboat Ron."
On November 18th, he filed paperwork to trademark it.
Rivera, the Carolina Panthers head coach, got the nickname for his Kenny Rogers-like propensity to gamble on fourth downs– going for it when the conservative play would be to punt or kick a field goal. The strategy worked. The Panthers are 8 for 10 on fourth-down conversions this season (The New York Times' 4th Down Bot is a Ron Rivera fan, it seems), and the team itself is 9-3 heading into a crucial matchup on Sunday night with the New Orleans Saints.
The phrase "Riverboat Ron" started to show up on social media earlier in November, but really took hold after the Panthers beat San Francisco November 10th. On the Tuesday after, a graphic artist from Raleigh named Jim Kennedy posted a poster of Rivera dressed like a riverboat gambler. The poster itself has started to show up at Bank of America Stadium.
After that, Rivera apparently decided to trademark the nickname. The attorney who filed the trademark paperwork for Rivera wouldn't comment, but the filing says Rivera would likely use the phrase on clothing, like t-shirts, polo shirts and hats. Rivera himself told Charlotte Observer reporter Jonathan Jones that he'd like to use the nickname to generate money for charity. He also said Friday that he hadn't thought of trademarking the phrase "Riverboat Ron," even though public records show his attorney already filed the paperwork to do so (The trademark's owner would technically be Coach Rivera LLC, a company formed in 2011 by Rivera and his wife Stephanie).
Coincidentally enough, Rivera's filing came on the same day that the Panthers converted on 4th and 10 late in the game to beat the Patriots on Monday Night Football. After that game, wide receiver Steve Smith told one of the New England cornerbacks who tried to cover him to "ice up, son," a phrase that's gained traction on social media and is starting to appear on t-shirts.
By Friday of that week, a guy named Christopher Bowens filed paperwork to trademark "Ice Up, Son." Bowens runs Sirius Networks, a web marketing firm here in Charlotte. "I thought it was iconic," he says.
Bowens is a native Charlottean, and says he's at every Panther home game. He does not know Steve Smith, and he also doesn't know what he'll do with the trademark, although his filing basically says the phrase would be used on clothing.