Room We Love: A Breakfast Nook in Cotswold
Designer Traci Zeller creates a bright, modern space inspired by nature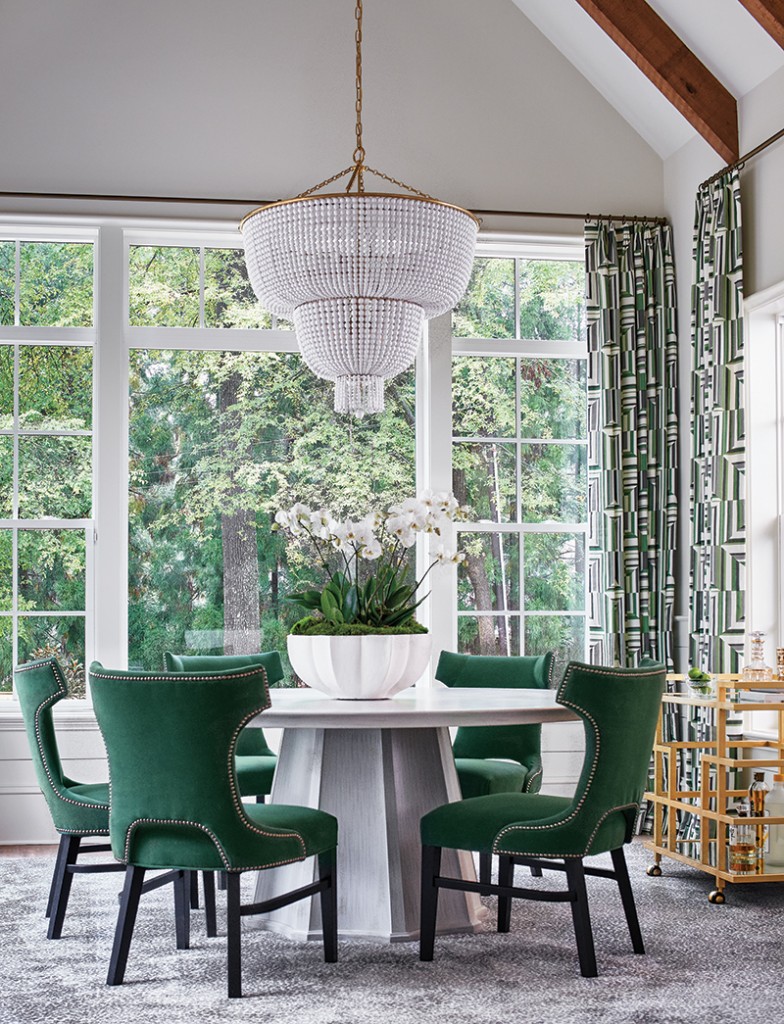 Traci Zeller, owner of Traci Zeller Interiors, loves a blank slate, and that's what she got with this new build in Cotswold. The home, built by Pike Properties, is what the company calls "custom spec," which means Pike and its subcontractors assume complete control of design and construction with no guidance from clients. Then the clients (or new buyers) move into a home with a clean, contemporary interior, high-end fixtures, and neutral finishes. Zeller's clients were first-time homebuyers who hired her to furnish and decorate the house, which included a dining area with three walls of windows that overlook a sea of green.
A MULTI-NOOK
This room was the only dining area in the house, so Zeller designed it to function as both a breakfast nook and dining room. She found the 72-inch round table and six chairs from Fairfield Chair Company and positioned them on a Stanton rug. "It's comfortable enough to eat your Cheerios," she says, "but if you wanted to throw a dinner party, it can feel like a dining room, too."
GREEN PARTY
The room looks out into the wooded backyard, so Zeller carried that palette indoors. She dressed the windows with custom drapes made from a graphic, art deco-inspired Thibaut pattern and chose a bold green velvet performance fabric to upholster the klismos dining chairs. "The good news is, all shades of greens go together," she says.
A COLUMN OF COLOR
Zeller used the two-tier Visual Comfort chandelier the Pike team had already installed as her focal point. "A round table with a fluted base draws your eye to the center of the room, creating a column of color, like in fashion," she says. "(The homeowners) are young, so I went with a fresh, modern aesthetic, but they plan to start a family, so we chose pieces that could grow with them."