Room We Love: A Nature-Inspired Nursery
Tamara Leicester designs for twins in a contemporary home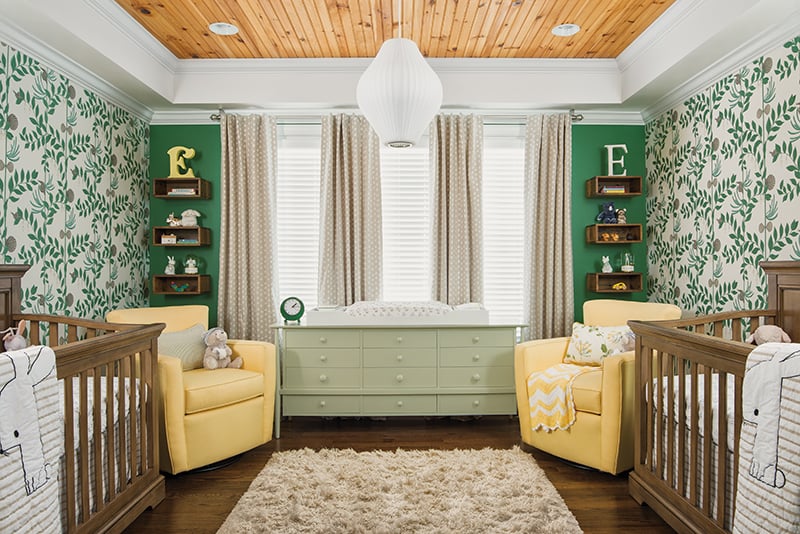 Contemporary Accents
The pear-shaped George Nelson pendant light is an elegant focal point that exudes subtle modern taste. "The couple's style in general tends to be more sophisticated, so I think that lent itself to doing more of an elegant design, not too juvenile," Leicester says. The mid-century modern dresser is a vintage '60s piece Leicester had painted and refinished. "The room will grow with the kids," she adds.
Symmetry
"It was intentional to do symmetry, because it was a room for two babies," Leicester says. She toyed with additional arrangement options, one featuring both cribs along the same wall, but none flowed right. "The room was symmetrical to begin with," she explains, which why the best decision was to balance everything, from the floating shelves to the drapes to the contrasting "E"s titling each child's side of the room.
Artisanal Attention
"A lot of the accessories on the shelves are handmade items from artisans," Leicester notes. Many of the items in the room were made-to-order, such as the "E"s, the small green clock, and the yellow-and-white baby blanket draped on the armchair. The idea was to make the room unique. The drapes and the bedding, however, are not custom, to help keep the design more affordable.
Natural Elements
Since the couple was expecting a boy and a girl, Leicester made sure to keep the color scheme gender-neutral. After she presented the clients with three options, this green-and-yellow palette won. The existing wooden ceiling was Leicester's starting point for the room and inspired the room's "garden-in-the-woods" feel. Leafy wallpaper and wooden cribs add to the organic vibe.