Room We Love: A Nursery Made Fun with Florals
Designer Anne Miller creates a sweet, Southern-inspired nursery for her daughter, Ari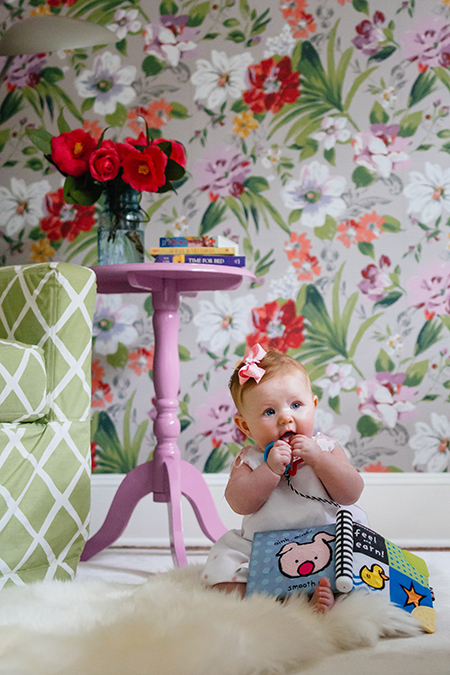 Mixing Trends
"There are no hard and fast rules when it comes to mixing design trends, other than that you should definitely do it!" Miller says, adding this advice: "If you follow only one trend, your room will look like a showroom and quickly become dated. If you buy and collect things that you love and that make you happy, you will always be able to find a place for them in your home." To ensure that each piece still works in a room, Miller suggests checking that the scale is right before adding it into the mix.
Patterns
Incorporate different scales of patterns. A child's room is the perfect place for pattern play: "Kids crave color and stimulation, so feel free to layer patterns throughout the room," Miller explains. But be wary of adding too much. Changing the size of the patterns, as Miller did with the tiny green print on the Serena & Lily crib sheet, helps prevent the look from becoming overwhelming. "It almost looks like a solid and is a nice place for your eye to rest," she says.
Geometrics
Consider this rule of thumb: For every organic print, mix in a geometric pattern to keep things balanced but not overwhelming. "The diamond print fabric on this Serena & Lily chair is especially fun, because it is similar in scale to the flowers in the wallpaper," Miller says.
Pastels
Don't be afraid to mix pastels with bolder colors. "Everyone loves pastels in a nursery, but you shouldn't feel hemmed in by them," Miller says. "I love how this floral Osborne & Little wallpaper incorporates bold red and green, along with pale lavender and gray. It's perfect for catching a baby's eye." Balance dramatic wallpaper with more subtle drapery and bed linens.
Rugs
Soften a nursery by adding throw rugs. Miller couldn't pass up this soft, white rug by Stark because it serves as the ideal place for her daughter to crawl and play. "I layered smaller throw rugs over the high traffic areas, like in front of the changing table and rocker," she says. "That way, we save the larger rug from being ruined too quickly."