Room We Love: Boutique Beautiful Dining Room
Lotus Look owner Effie Loukas brings boutique elegance to room transformation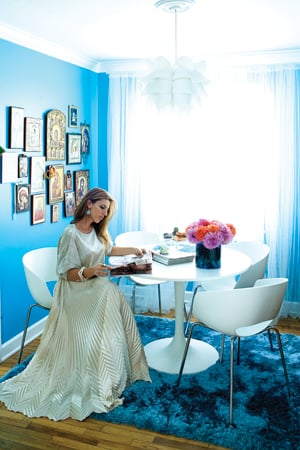 Lotus Look owner Effie Loukas transformed her dining room with elegant minimalism:
ARTWORK— If you can connect, then collect. "Every single one of those Greek Orthodox icons has meaning to me," says Effie about the framed saints. (She continues to add to this special—and spectacular—collage with hopes to fill the wall one day.)
DRAPES— Like her boutique in Midtown, this space is minimal, but warm and inviting. "I like being clutter free because everything has a purpose," she says. A perfect example of design meeting function is the sheer window treatment, which adds privacy and soft lighting.
COLOR— Be bold, but balanced: here, the neutral ceiling and crown molding show off brilliantly blue walls. "Turquoise and white take me back to Mykonos," says Loukas, who was born in Greece. "It's a look that's easy on the eyes, but with focal points here and there."
RUG— "I love mixing old with new," says Loukas of the turquoise shag rug that she's owned for several years. As one of the first pieces in her home, the thick texture and bright color adds a retro twist to the room.
TABLE— Trust your taste, but act on a budget. Loukas fell in love with the clean lines of pricey modern tables, but purchased a more economical version at IKEA for just $400. "It's perfect for the space," she says, especially when surrounded by sleek crescent-rounded chairs from By Design.
Lotus is located at:
1111 Metropolitan Avenue
Charlotte, NC 28204
You can contact Lotus by calling (704)335-8884.