Room We Love: Retro Chic
Contractor Brooks Henderson of Henderson Building Group transforms a once-dated master bathroom into an oasis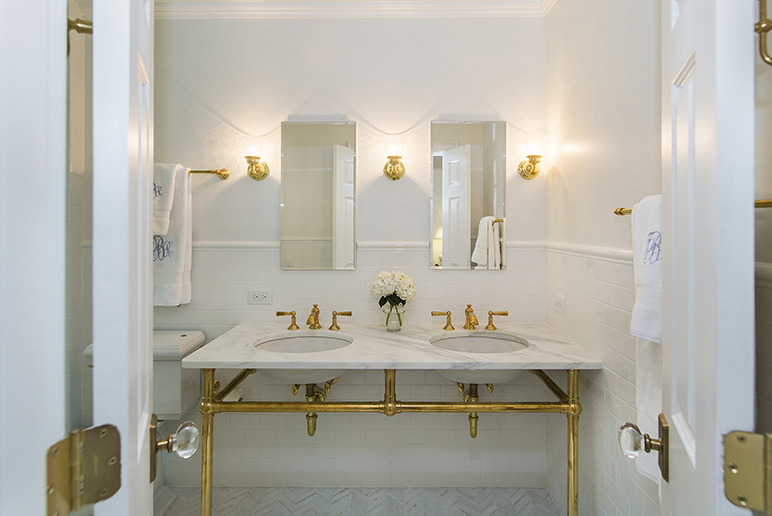 DOORKNOBS: Without overdoing the retro look, the homeowners opted for crystal doorknobs in lieu of the antique brass accents found elsewhere in the room. "The homeowner[s] really tried to keep a classic look as opposed to going with anything too modern," Henderson explains. All-white doors and trim work mesh seamlessly with the antique look of the crystal doorknobs.
CONSOLE: Though it wasn't necessarily what people in the 1940s had in their bathrooms, this console with sink gives a subtle nod to the time period. With its sleek, marble counter and exposed antique brass legs, the Palmer console from Renaissance Tile was a fitting complement to the other accents in the bathroom.
BRASS FIXTURES: While the homeowners wanted to renovate and update the home (it had last been renovated in the 1980s, but the bathroom had remained untouched since it was built in 1947), they also wanted to pay homage to the 1940s period. In lieu of more modern chrome or nickel finishes and in keeping with the era, the homeowners opted for antique brass fixtures from Newport Brass. "Over time, the brass will [form a] patina, leaving it with an aged, antique look, which the homeowners loved," explains Henderson.
ENTRYWAY: The circa-1947 Dilworth bungalow had only one-and-a-half bathrooms for its three bedrooms, which meant a master suite never existed. "The homeowners really wanted to give themselves a true master en suite that was only accessible from their bedroom, rather than the hallway," explains Henderson. To achieve this, he closed off the hallway entrance and added a double-door entryway from the master bedroom.
SUBWAY TILE: The original bathroom was typical of the 1940s: sour green apple tile on the walls and floors and paint on the ceiling. While the homeowners weren't keen on the bold color scheme, they did want to keep the subway tile running halfway up the walls and in the shower. "Back then, it was common to use subway tile like wainscoting in bathrooms," Henderson says. The white subway tile and penny marble tile on the shower floor complement the more modern herringbone-patterned marble throughout the rest of the bathroom's floor.