Rooms We Love: Patterns That Pop
Laura Archibald designs a beautiful—and family friendly—study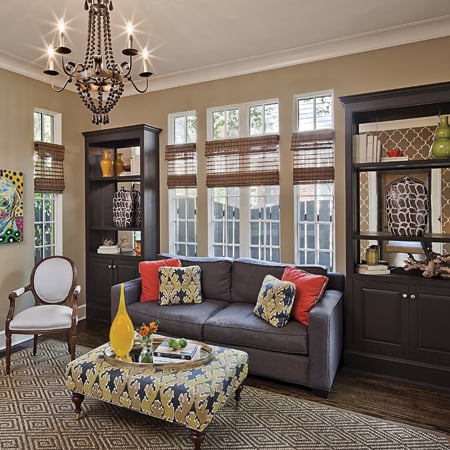 CHAIR: Add versatile staples. "The thing I love about French neoclassical pieces like the Louis XVI chair is that they can be as traditional or contemporary as you want them to be depending on the fabric and finish," says Archibald.
BLINDS: Consider filtered light. Archibald skipped draperies because she felt they would be too heavy in the room. Instead she opted for woven wood blinds, which add texture and interest without shutting out a lot of light.
MIRRORS: In a small space with little light, consider backing bookshelves with mirrors. "It helps reflect the light and make the room feel larger," she suggests.
RUG: Offset bolder patterns with a natural fiber rug. "They have good body to them, they're not flat, and they're fairly durable," says Archibald of the diamond-pattern sisal rug she chose from Prestige Mills for homeowners Gracy and Scott Wooster.
OTTOMAN: Archibald swathed the ottoman in a classic Kelly Wearstler print by Lee Jofa rather than reupholstering the much larger couch in the pricey fabric. "Using a bold, more expensive pattern on the ottoman [or a smaller piece] is a great way to get a punch of color in a room without breaking the bank," says Archibald.
COUCH: Customize if you can. Architect Kent Lineberger, who designed the renovation on this Myers Park home, created built-in bookshelves to accommodate the family's existing sofa.