Round-up on Stephen Curry's NBA debut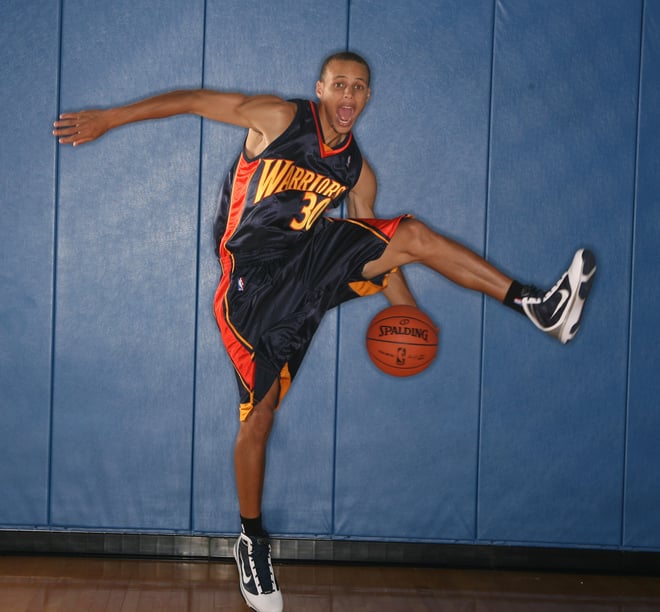 What, we don't have a sports blog on this site? Who's in charge of this operation? Guess I'll have to fill in. I did start my career as a sportswriter, writing for this weekly paper.
Former Davidson star Stephen Curry played his first NBA game last night. He started for the Golden State Warriors against the Houston Rockets. Thanks to the free preview that NBA League Pass is offering, I watched the first half. What I saw in Curry was a potentially great NBA point guard on a pretty bad NBA team. Whenever the multitude of ballhogs on the Warriors allowed Curry to run the offense, things flowed more smoothly and good players got open shots. That's the way it's supposed to be, and it was fun to watch.
Here's what others in the media had to say:
Chris Ballard from CNNSI.com: "He has the opportunity to be like Steve Nash. Which, come to think of it, is the player Curry most resembles, in a best-case scenario way."
Scott Ostler from the San Francisco Chronicle: "Superstardom is somewhere in the future, but Wednesday night Curry started, played 36 minutes, had 14 points, seven assists, four steals and two turnovers."
Tim Kawakami from the San Jose Mercury News: "Curry looked poised and snapped sharp passes all over the court, picking up four assists in the Warriors' first nine baskets."
For kicks, here's the award-winning profile that Michael Kruse wrote for our November 2008 issue, and here's Kruses's inside look at Curry's decision to go pro that we ran on the site a few months later. Both are great pieces and worth a read.