Run Like Hell: Meredith Dolhare
Running saved her life. Now, she's using the sport to help others heal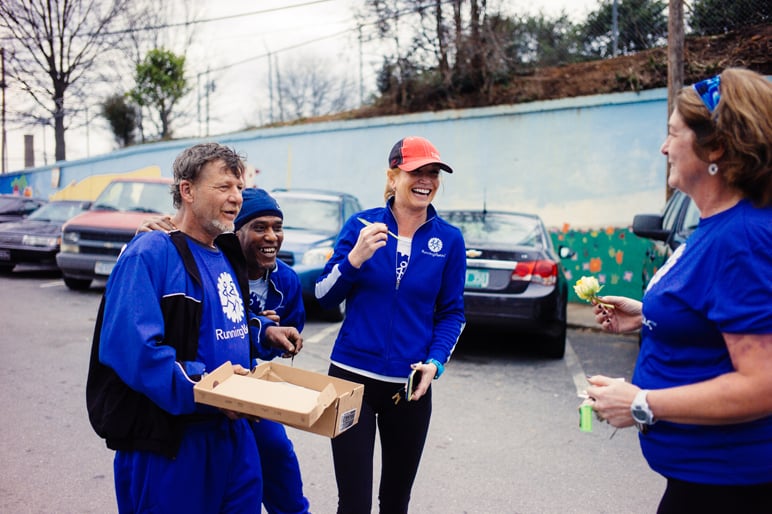 MEREDITH DOLHARE can't find her cheese plate.
She stands on her tiptoes to peer into a kitchen cabinet. She lurches over her three dogs—two goldendoodles and a Catahoula-Labrador mix—to look above the double-door, stainless steel refrigerator. She brushes aside the white Dean & Deluca bags with the smoked mozzarella, gouda, Brie, tapenade, and stuffed grape leaves she picked up in a hurry on her way home.
It's nearly 6:30 on a Thursday evening, and Dolhare is scrambling.
She's been up since before sunrise, making sure her sons, 17-year-old Watson and 15-year-old Noah, had warmed-up cars and could safely navigate the steep and snowy driveway before school.
In fact, she never made it to bed last night.
She's been working on revamping the website for her nonprofit organization, RunningWorks, which helps homeless people, abused and neglected children, at-risk teens, and women recovering from addiction improve their lives through sports. A lifelong athlete, Dolhare knows that sports require teamwork, dedication, and discipline—skills that will help her athletes find and maintain a job. What she can't teach them through running, she teaches them in post-run workshops that cover subjects such as goal-setting and time management.
It's hard to find a succinct way to explain everything her organization does in one website, but Dolhare's trying. And today she's up against a tight deadline. Her husband, Walter, is working to raise tens of thousands of dollars for RunningWorks by asking his colleagues at Wells Fargo to vote for his team on Dancing with the Stars of Charlotte—an annual fund-raiser that benefits the Charlotte Ballet and local charities. If the people at the bank are going to donate $70,000 to her charity, Dolhare figures they should have as much information as possible about what it does.
So earlier today, after not having slept in three days, the 41-year-old launched the new version of the site. "I'm always frazzled," she says, wiping her forehead. "Such is life. It's OK. I take on a lot."
This is a woman who once ran 135 miles in Death Valley and then got on a bike three months later and rode 353 more. She competed in three Ironman races on three consecutive weekends in three different countries. She's not easily overwhelmed. But while she directs RunningWorks, launches a new website, crisscrosses the state to speak for her corporate shoe sponsor, Newton Running, and ensures that her teenagers make it to school on time, Dolhare also insists her family sits down every night for dinner.
Walter, who is a managing director and head of the markets division for Wells Fargo Securities, helps her find the cheese plate, tucked away above the refrigerator. Dolhare's mom, Gloria Chiles, takes a piping-hot pan of lasagna out of the oven. Noah and Watson chide their grandpa, whom they affectionately call "Bobster," about his lackluster Twitter account.
The entire family is gathered around the table, the teenagers in hoodies and pajama pants, sipping from BPA-free athletic bottles. Watson starts discussing a research paper he's writing on the Mongol Empire. "If you got in their way, they'd burn your town down and slaughter you," he says of the renowned warriors. "But other than that, they were OK."
It's an ordinary scene—the boys teasing their grandfather, the comforting smell of lasagna, the iPhone videos passed around the dinner table. Watching her family's interactions, Dolhare smiles and lets out her smoky-voiced laugh. "I'm laughing because I'm so happy to be alive," she says with a grin. "I'm laughing because I'm not dead."
***
JACKIE BROWN USED to think redheads were devils. So when she met Dolhare three years ago at Charlotte's Urban Ministry Center, she steered clear.
The redheaded devil had other plans.
At the time, Brown had just returned from a year in Mississippi. She was jobless and living in a truck or with a friend when she could. "I was thinking about what I have to do to get a roof over my head," Brown says. "I'll sell some pills or something."
Dolhare, who was volunteering at the center, told Brown there was no chance she was letting that happen. She put Brown up temporarily in a hotel and told her she needed to come to RunningWorks, an organization she had just founded. RunningWorks partners with five organizations: the Urban Ministry Center, which helps Charlotte's homeless, Dove's Nest, a program of the Charlotte Rescue Mission that aids women battling homelessness or addiction, The Relatives on Ramp, Rowan Helping Ministries, and the Children's Attention Home. The goal is to find people such as Brown, people who need someone to believe in them. And together, they run.
Runs begin at each of the charities and are split into two groups: runners and walkers. During marathon season, Dolhare meets runners hoping to compete for two extra circuits each week, including some 20-mile loops. But not everyone is in marathon shape.
Brown, who has asthma and bronchitis, was not inclined to run. But there was something about Dolhare that drew Brown in. She went to a RunningWorks meeting and listened as Dolhare said she could do anything she put her mind to. The redheaded devil got in Brown's face and told her that even if no one believed in her, even if Brown didn't believe in herself, she believed in her.
Brown kept coming back.
"God just stuck us together somehow," Brown says. "She was kind, she was nice, she was offering, she has wisdom—everything. I took to her like a sister. She's been there through thick and thin. She's never turned her back on me, and I would never turn on her."
Dolhare's coaching and guidance helped Brown land a job as a sandwich-maker at Newk's Eatery. Eventually, she secured her own housing. Today, Brown is still working at Newk's. But instead of making sandwiches in back, she's the lead front-of-the-house manager. She also works a second job, as a hostess at Olive Garden.
"It's hard to put in words," Brown says, "but Meredith is the best thing that's ever happened to me."
***
AT THE DOLHARE family lake house in Mooresville, Meredith has a tree house with a treadmill inside, encased by space heaters.
She uses it in the summer, not the winter.
The sweat box-style tree house is her training ground for a grueling pair of races in Death Valley. The Badwater 135 Ultramarathon Running Race is a 135-mile run through Death Valley in late July. It's followed by the Furnace Creek 508 Bicycle Race, a 508-mile trek that begins in Reno in September. In 2013, Dolhare became only the sixth woman to complete both races.
The 643-mile journey is about the same distance as running from Charlotte to New York City, but Dolhare shrugs this fact off while talking about the races. When you've run more than 100 races that add up to 5,200 miles since 2008 (about 400 miles more than a jog from Charlotte to Los Angeles and back), a 643-mile trek isn't such a big deal.
Dolhare says her desire to run competitively began in 2007, when an evening jog down Carmel Road left her with a broken foot. She was determined to recover and prove that her injury was "not a death sentence."
And she has. She participates in Ironman races, which include a 2.4-mile swim, a 112-mile bicycle ride, and a full marathon. Since 2011, she's been a member of the Timex Multisport Team, a triathlon team composed of amateur and professional runners.
Walking into the training room of the Dolhares' home, which has an elliptical, a stair-climber, three biking machines, and a treadmill, Walter points up at Meredith's 61 racing bibs that cover the ceiling and her 58 medals that shroud the walls.
"She's got a TV in here, so there are times she'll run a marathon on the treadmill," he says. "She'll watch some TV, get off, and then just go make some dinner."
Today, most of the running Dolhare does is alongside her son Watson as one of his cross-country coaches at Charlotte Country Day School. It's a perfect job for a woman who describes herself as a 14-year-old boy at heart. She also laces up her running shoes with the people who sign up for RunningWorks.
Dolhare believes participants learn valuable lessons just by showing up for runs at least once a week. She encourages members of each group to work together. RunningWorks volunteers will stay with those who simply can't keep up.
"That is not the time to surge and leave them; it is the time to encourage and slow down in order to help that member gain confidence in the doing—just like geese do," Dolhare says. She doesn't allow headphones, instead creating an environment in which runners and walkers learn one
another's pasts and hopes for the future.
"It's a team, a family; it's about showing up, knowing what day it is," she says. "When they're on the street, they don't even know what day it is."
Dolhare knows something about that feeling, about losing track of days and weeks. She spent a long time struggling to leave that darkness before she started helping others do the same.
***
BEFORE SHE WAS A RUNNER, Dolhare's first athletic home was on the tennis court. She began playing at age 5, was competing in tournaments by the time she was 8, and went on to join the national tournament circuit.
It was while she was away from home for one such tournament that she was first raped.
For nine months beginning when she was 16, an older acquaintance raped her repeatedly. The assaults escalated in frequency and in severity. She lost her virginity during the first one. And for 12 years, until Dolhare entered rehab for the first time, she didn't tell anyone.
She was a sports star, a successful student, a future UCLA recruit. Sexual assault didn't fit into that rosy picture, so she pushed it to the back of her mind.
"After the rapes, I went into this upward spiral instead of downward," she recalls. "I started thinking, 'I'm going to survive and I'm going to thrive and screw all of them.' But in a weird way, there was probably this backwards unraveling, unfortunately. And I didn't know that until after therapy."
During her senior year of high school in Memphis, Tennessee, after the sexual assaults had ended, Dolhare was at a tennis match when she met an Argentinean with "shorts that were too short and hair that was too long." His name was Walter. They got ice cream, watched a soccer game, went to dinner, and stayed out so long that Dolhare's parents called the police. It was uncharacteristic of their daughter to leave them worrying.
"It's like 6 o'clock, 7 o'clock [at night], so I call my parents and my mom is like, 'I've been looking for you, I've been calling the police. Where the hell are you?' " Dolhare remembers.
"Remember that guy from Argentina?" the teenager told her mom.
"Uh huh," came the reply.
"Well, that's where I've been."
"Well, hang up the dang phone," her mother said. "He's going to think you're, like, 12!"
The pair dated all through college and married during Dolhare's senior year. Ranked ninth in the country during high school, she had joined UCLA's highly ranked, Division I tennis team on scholarship. Her freshman class included players who were ranked No. 1 and No. 12 in the country coming out of high school, and an environment of infighting and chaos developed. Dolhare left UCLA after her first year and returned to Tennessee to join Vanderbilt University's squad.
"Vandy was a real team, a real family," she says, "And that's kinda what I try and instill at RunningWorks. I want a team. I want a family."
Off the tennis court, Dolhare excelled academically as well, scoring a coveted fellowship spot at Turner Sports in Atlanta in the lead-up to the 1996 Summer Olympics.
After Meredith graduated from Vanderbilt, she and Walter, who was working at First Tennessee Bank and then at First Union, moved back to Memphis. When they had been married for two years and Watson had turned six months old, the couple decided the family couldn't stay in Memphis. The city didn't offer Walter the career opportunities that a major financial center such as Charlotte could.
But Meredith unraveled not long after she got here.
"I was just so bored. We got here and I was Walter's wife, Watson's mom. I had never been just 'Watson's Mom,' " Dolhare says. "I had always been the tennis player, my own identity, someone of importance myself. I had lost my identity."
Watson had not yet learned to talk when he was around 18 months old, and the couple thought he had autism or severe disabilities. Doctors repeatedly told them he was fine, and when he was 20 months old, Meredith gave birth to Noah. Soon, the recent move and the new role as "just" a mom wore her down. And something within her snapped.
"I just lost my shit," she says.
When she was visiting Paris for a girlfriend's bachelorette party, the bride-to-be gave Dolhare an ultimatum: She could snort cocaine or leave the party. She stayed. Soon, she began creating rules for when she could do cocaine and get drunk. Then she began breaking them.
"Those rules became: You doing coke in the basement, doing coke on a plate with your family upstairs and pretending you're asleep, knowing your husband's alarm is going to go off at 6:15 and you kind of sneak into bed hiding the plate somewhere," she says. "It became throwing champagne bottles out of the window at night and having your husband say, 'I didn't know our yard guys drank that brand of champagne.' "
She hit bottom one morning in 2002 when she woke up from a drunken stupor in a panic, unsure of where she was, unsure of where her car keys or car were. She was inside her own home. She called a friend to help her find her keys and then drove herself to a 30-day rehab
center. During intake, for the first time, she admitted she had been raped and was immediately put into the intensive trauma unit, which neglected to treat her for the drug and alcohol addiction.
She would return to rehab twice, including one five-month visit, and she thought about killing herself several times during her struggle.
But then she remembered Noah. She remembered Watson.
"I have kids, I have a reason to live," she remembers thinking. "But at that point, I thought my kids would be better off without me. I knew I had to change."
Following a rehab stay in 2007, Dolhare returned home and began running. It was a sport she'd enjoyed as a kid, before she joined tennis and soccer teams. Now it would help her move forward.
Then she broke her foot—twice.
This was no small injury; to fix the problem, doctors inserted a screw into the length of her fifth metatarsal. But Dolhare took it as a challenge. After she recovered from the surgery and had her boot cast removed, she registered for her first Ironman before she had a bike to ride in it. She started to run competitively. Four years later, RunningWorks was born.
***
BENITA BARRETT had her hands deep in the dirt when she met Dolhare.
Barrett, homeless and jobless at the time, was volunteering in the garden at the Urban Ministry Center. As Barrett remembers it, Dolhare was the kind of volunteer who couldn't help but adopt people; she would befriend folks who lived near the center and help them get off the street.
"I am a child of God, and I believe He made a way for her to be in our life," says Barrett, who now works at BIC Warehouse and has stable housing. "She's a loving person. She's no stranger to no one."
When Dolhare started racing competitively in 2008, she was also raising money for the Challenged Athletes Foundation, an organization that helps those with physical disabilities return to running. She's raised nearly $75,000 for the organization.
But if she could raise that much for someone else, she thought, shouldn't she keep the money closer to home? "I was raising significant funds and then kinda passing the buck off and being like, 'OK, now someone else deal with the problem,' " she says. "And I'm not [OK] with that. I didn't want to pass the buck off if I had the fund-raising ability, and that's how it started."
Dolhare filed the 501(c)3 paperwork for RunningWorks herself, using LegalZoom to handle the legal formalities, and Walter contributed the seed money.
Three years later, RunningWorks has helped nearly 50 Charlotteans find jobs and another 50 secure housing. And it has given Dolhare's life a greater sense of purpose.
"I think the reason I'm able to relate to the populations I work with is because I've been there," she says. "Once they hear my story, they realize I'm not just doing it for shits and giggles. It's because I realize sport saved my life. It's because I realize I found my way out of the depths of hell with it."
***
DOLHARE CAN'T stop laughing.
She and Noah have oversized boxing gloves on, and the 15-year-old is walloping her. Dolhare is asking for more, and Noah takes one more quick jab before scurrying away, knowing his mom could beat him any day.
She removes the gloves, flips back her hair, and laughs. She's home.
Not that things are perfect. Last year, Dolhare returned to rehab for post-traumatic stress disorder related to her sexual assaults. She also, after more than six years of sobriety, drank red wine. She realized that she wasn't doing what she asked of her students: Seek help when you need it. But she's here now, and she has two handsome sons, one of whom is about to compete in a track meet in Winston-Salem. She's helped people get off the street. She's helped more than four dozen Charlotteans find jobs.
"The whole point is that I do struggle," Dolhare says. "It does not come easily for me at all."
It's almost midnight, and Dolhare returns to the kitchen, stepping over her now-sleeping dogs. She puts the cheese plate away. Family dinner starts again tomorrow.
Jared Misner is a freelance writer in Charlotte. Reach him at jaredsmisner@gmail.com or follow him on Twitter @Jared_Misner.