Ruth's Salads: Six Decades of Pimento Cheese
Business is the same as it ever was—just as its loyal customers expect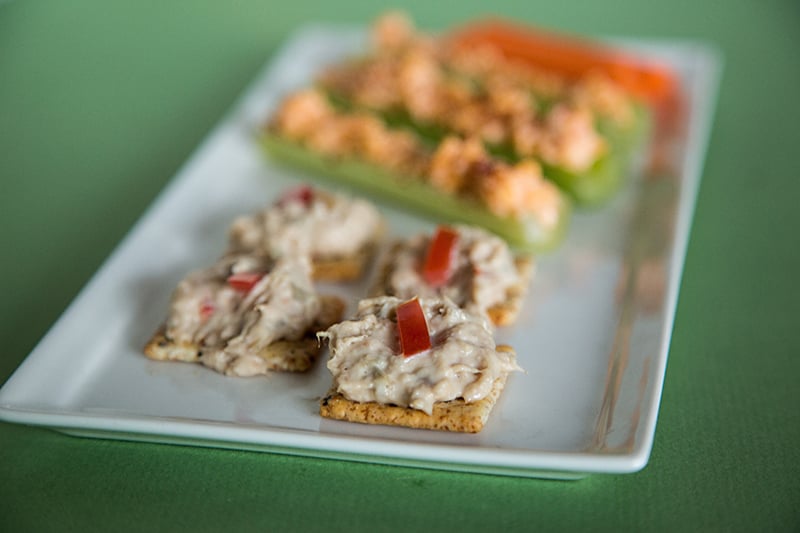 BY 6 A.M. MONDAY, coffee is brewing and production lines are running at the Ruth's Salads facility on Thrift Road, just off Freedom Drive. Bill Rudisill, the general manager here, has just returned from the assembly line, wearing a long, white butcher's coat with "Ruth's" stitched in red across the breast pocket. Rudisill, who is no taller than 5-foot-6, with wavy white hair parted to the side, has worked at Ruth's Salads for more than 40 years.
"We're a local company that has stayed a local company," he says. If you've lived in the South anytime in the last 60 years, there's a good chance you've heard of Ruth's Salads, best known for its pimento cheese spread. The company started selling Ruth Ross's salad recipes in the early 1950s, before Bob and June Miller purchased it in 1953. Without changing the ingredients or the name, the Millers produced Ruth's pimento cheese, chicken salad, cole slaw, and chili in a tiny kitchen on Wilkinson Boulevard for what is now one of Charlotte's oldest family-owned businesses.
Rudisill started driving a refrigerated Volkswagen van as a delivery man in the early 1970s. By that time, Bob Miller had passed away, leaving company ownership to his widow, June, and her second husband, Bob Griffin. "Mr. and Mrs. Griffin both, for whatever reason, liked me and appreciated me, and I moved up," Rudisill says in an aged, Southern-steeped accent.
Today, Rudisill oversees production at the plant in Charlotte. He remains close to June, the sole owner of Ruth's Salads since Bob's death. "She calls every morning," Rudisill says, glancing at his wristwatch. "Checks in, makes sure everybody is OK, and asks if we need anything, and then tells us she loves us when she hangs up."
Here at the Charlotte facility, tub after tub of cole slaw flows down a conveyer belt, ready for packaging. Available at Food Lion, Ingles, Publix, Bi-Lo, and Walmart, Ruth's Salads has secured a spot in home refrigerators reaching as far north as Pennsylvania. "It's the quality of our products," Rudisill says. The signature orange-colored pimento cheese requires a sturdy pretzel to scoop up the chunks of shredded cheddar blended with a rich salad-dressing base. The company's pineapple-pecan cream cheese spread, another popular product, is neither overly sweet nor crunchy, but a little bit of both, giving rise to a subtle flavor that complements any salted cracker.
The continuous motion of the plant's production line can lull one into believing that everything's easy here. Rudisill reveals a more difficult reality that includes passing daily USDA inspections and competing with private label products. The company is adjusting after closing its Chester, South Carolina, plant. Several products packaged there were recalled earlier this year due to listeria concerns, though no illnesses were reported. Ruth's products are back on the shelves and again made exclusively in Charlotte, still with the same recipes from its early days off Wilkinson Boulevard.
"We're so conscientious about the manufacturing process of our products," Rudisill explains. "Everything has to be done as exactly as the recipe states."
It's Rudisill's job to ensure that Ruth's Salads products continue to follow the original recipes and use ingredients sourced by the same suppliers. "At least one time a week, I taste everything that we make, just to make sure we're still doing everything as we have done all these years," Rudisill says. "We still are." The company has kept most aspects of production the same as when it started in 1953. "I know it's the same as 40 years ago, because I've been here at least that long," Rudisill says.
Even the office feels the same as it did when Ruth's Salads first moved into this facility on Thrift Road in 1960. June's office door, kept closed since her retirement eight years ago, maintains a patchwork of photographs of employees' children and Christmas cards. At any moment, you expect her to walk out of her office and over to the vintage Hotpoint oven in the kitchen, where she used to cook lunch for her employees. "She cared about her customers, she cared about her product, and she cared most of all about her employees," Rudisill says.
The focus on keeping Ruth's Salads the same has resulted in a band of loyal customers, both new and existing. "Love the original pimento cheese! Have been eating this since a little girl," reads one Facebook review. "Most of the pimento cheese spreads on today's grocery store shelves do not taste like Mom's, so when I tasted Ruth's it was like being back home again," says another.
That nostalgia isn't just in their heads, either. "Everything is exactly the same as it has been all these years," Rudisill says.
The most devout still inquire by phone, email, or Facebook about a corned beef spread that was distributed in the mid-1970s. (Despite being Rudisill's favorite, the corned beef was too costly to produce and was discontinued eight years ago.) Some folks even stop by the plant to try and buy the coveted pineapple-pecan cream cheese, a rarity not sold by all of Ruth's Salads retailers. "If I'm in a good mood when you come in," Rudisill laughs, "I may even give you three cups for the price of two."