SAG Awards Fashion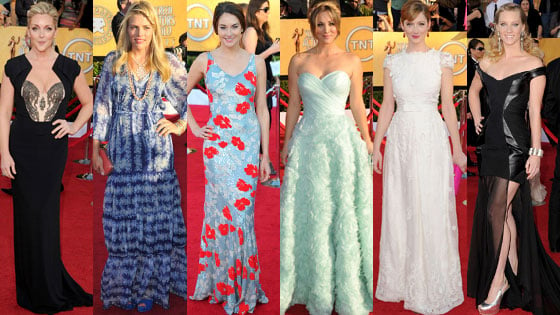 I wish "Say[ing] it ain't so" were a possibility, but there were too many offenses on the Red Carpet of Sunday night's SAG Awards. Some sage (albeit harsh) advice for future nominees: if you want to be a winner, don't dress like a loser. I'll dedicate some of this post to Red Carpet successes, but unfortunately, I have to address the offenders, first.
Worst Dressed:
Shaliene Woodley: even with little makeup and a teenage look, she was gorgeous in "the Descendants". So, why did she raid the Golden Girls' ex-wardrobe closet for one of her first awards shows? This is a Blanche Devereaux dress for the books—actually, I think she had a silk robe in that exact print.
Busy Philipps: so many mistakes, so little time. First, she isn't pregnant, but who knew? Second, she clearly thought she was to dress in theme for "the Descendants" (ya know, Hawaiian) even though she's on "Cougartown". She's no cougar in this getup.
Zoe Saldana: again with the Golden Girls' wardrobe raid; from the waist up, this has Dorothy Zbornak written all over it—only even she made more of an attempt at a chest (I guess the auto mechanic tank is to blame). From the waist down, she's ready to walk the aisle. Saldana's too pretty to be on this list.
Best Dressed:
Kyra Sedgwick: the shape and shade of this red Emilio Pucci halter do everything to flatter Sedgwick's coloring and time-defying, unbeatable body.
Emily Blunt: her Jade Green Oscar de la Renta stole the spotlight in a sea of pale palettes.
Juliana Marguiles: she finally hit the mark in a nude number by Calvin Klein that compliments her alabaster complexion beautifully.