Salsa Lovin'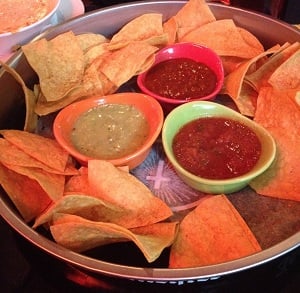 I recently ran into on the Interwebs summed it up perfectly: "I don't always eat chips and salsa, but when I do, I eat them until I hate myself."
Although this snack has always been a go-to for me, I've found that salsas – especially those found in Mexican eateries around Charlotte – can start to feel a little bit similar. Don't get me wrong – the tableside dip at Cantina 1511 is a favorite as is the queso fundido at Zapata's, but I had yet to find a truly different AND delicious salsa to grace those warm, house made chips.
Texicali Taco & Tequila Bar recently opened in the NC Music Factory, and I subsequently have found my new favorite salsa. Available on it's own or in a trio with a classic Salsa Roja and Salsa Verde, the Salsa Borracha – which means "drunk" by the way – is made with toasted morita chilies, orange juice, aged tequila, and garlic. The flavor profile is somewhere between smoky barbeque sauce and deep mole. Either way, I smothered just about every chip in the concoction.
Not to be ignored, the other two salsas in the trio are extremely fresh and lend their own more traditional flavors to the torilla chips. The chips, by the way, are made by a local Charlottean each and every day for Texicali. Chef de Cuisine Carlos Rangle is originally from Mexico City and, therefore, knows his flavors and which salsas will work and which simply will not. Regardless, everything at Texicali feels and tastes extremely fresh and authentic.
By the way, if you order the trio of salsas, the chips and dips arrive on a platter bigger than your face. So, in closing, you too will want to eat chips and salsa until you hate yourself.