Salud Cerveceria set for breakfast beer releases Tuesday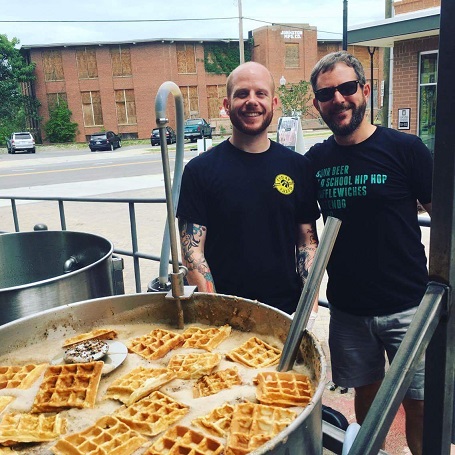 Since opening nearly two years ago, FūD at Salud has become known for a main staple: waffles. FūD's main operator Jeff McElwee's "waffle-wiches" are outstanding, including the insanely good Chicken and Waffles (featuring chicken salad, candied walnuts, bacon and maple syrup).
So it's fitting the next stop for FūD's waffles is Salud's nanobrewery. It's all part of Salud Cerveceria's latest release party titled "WaffleMania," taking place Tuesday at 7 p.m.
"We're always throwing stuff against the wall when it comes to ideas," says Salud Beer Shop owner Jason Glunt. "There's a fine line – you want to be unique but not gimmicky. You want to do it right."
That meant when Glunt and Salud brewer Denny Deaton (Shawn McBride is the other brewer at Salud) began brainstorming, they ended up not having to look far for ideas.
"Denny and I were hanging out, and were talking about how we noticed across the country you see breweries working with chefs, so it spawned from there," Glunt says. "We wanted to find a way to collaborate with the deli, and it all was sitting right there in front of us."
WaffleMania is an imperial chocolate stout brewed with waffles that was created in late June. From that base, Deaton created two variants: Frambella (aged on fresh raspberries and toasted hazelnuts) and You're Killing Me, S'mores (aged on cocoa nibs, vanilla beans and smoked sea salt). Both beers take inspiration from first being featured as waffle-wiches on FūD at Salud's current menu.
As part of the release, you can order a special $25 deal, which will get you a 13-ounce pour of both beers, two waffles and prints of the WaffleMania artwork, seen below. Salud will also be offering individual pints (including a blend of the two, Cuvee de Waffle, if you so desire) of Frambella and You're Killing Me, S'mores at the shop as well.
—-
There's also new information on the beer shop's annual sour festival, "Release the Funk." It was recently announced the fourth annual festival, which will take place November 19 from noon to 4 p.m. at Neighborhood Theatre, would be titled "Baptized in the Funk." This year's event will be put on for the first time ever as a partnership with Free Range Brewing and Fonta Flora Brewery.
Ticket info is now available, as tickets will go on sale this Thursday, September 15 at noon. There are two ways to get them online, either at saludbeershop.com or Eventbrite.com. No tickets will be sold at the shop. Tickets will be $70 and include unlimited samples of some of the finest sour and wild ales offered in the Southeast and throughout the country.