Salud once again Releasing the Funk, to the delight of local sour fans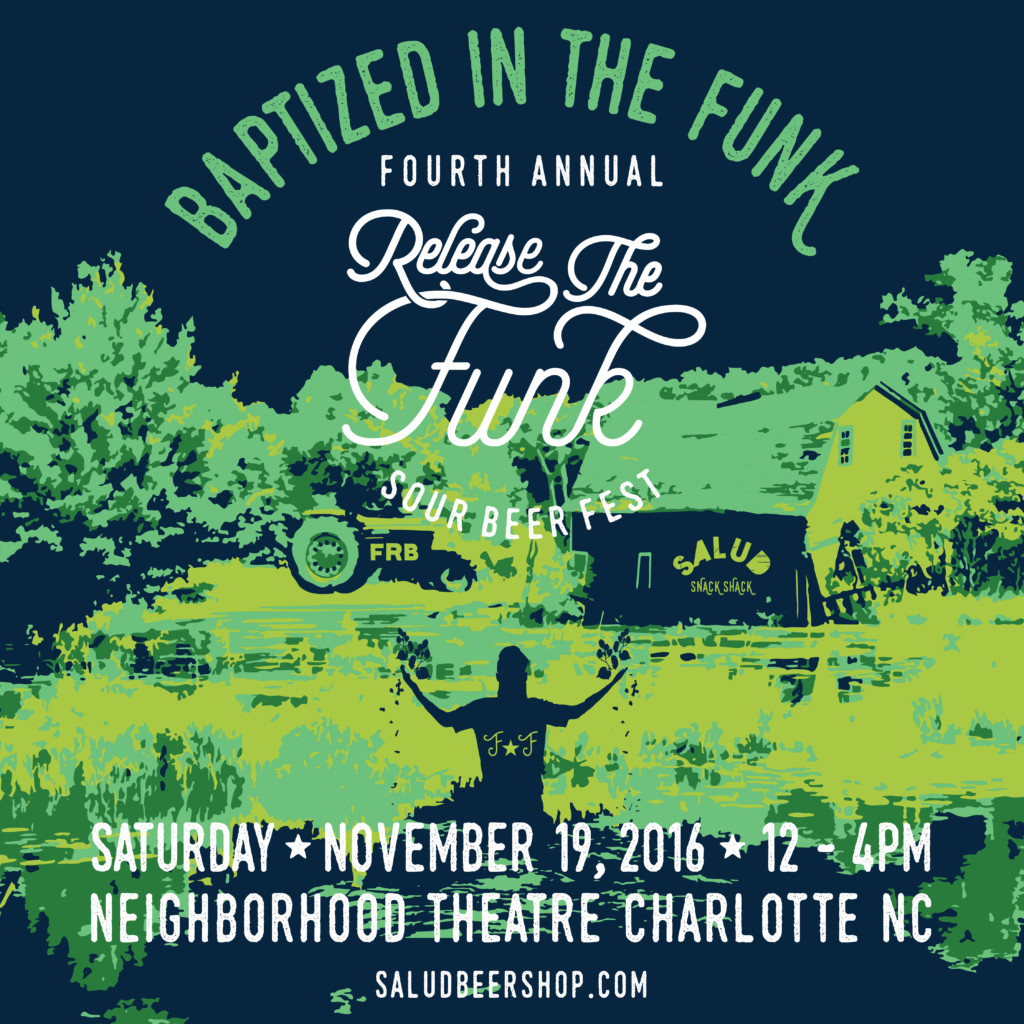 Sour beer lovers rejoice: It's time to get funkdafied this Saturday.
Back for the fourth year is Salud Beer Shop's annual sourfest, Release the Funk, taking place this Saturday at Neighborhood Theatre from noon to 4 p.m. This year's iteration is dubbed "Baptized in the Funk," (a line made famous by Da Brat – 90s hip-hop fans will remember) and festival creator and Salud owner Jason Glunt says the 2016 event is "the best we've had yet."
With a lineup that includes more than 40 breweries from across the country- many of which are widely known for their sour beers – it's easy to see how this festival has become a must-attend among the yearly Southeast beer events.
"It's been amazing; this is the first year we've had to be choosy and picky and tell some breweries no because we have only so much space," Glunt says. "There are so many breweries making sour beers now which is great, but this is a $70 ticket, so we want to make sure we have the best of the best and feature breweries that are really focused and dedicated to the craft of sour beers."
While Glunt partnered with New Belgium for the previous sour festivals, this year he wanted to take on a more local feel. To that end, the RTF 4 co-presenters are Free Range Brewing locally and Fonta Flora in nearby Morganton.
"I have a great relationship with Todd (Boera) from Fonta Flora and Jason (Alexander) from Free Range, so I wanted to bring them in the mix and show that North Carolina has a lot of breweries that are pumping out some really great Brett, wild and farmhouse ales and sour beers," Glunt says.
Along with the co-presenters (Salud's nanobrewery, Salud Cerveceria will also be pouring), other local breweries that will be in attendance Saturday include Heist, Lenny Boy, NoDa and Wooden Robot. Throw in the likes of Burial, Carolina Bauernhaus, Green Man, Steel String, Wicked Weed and Zebulon and that's a solid Carolinas sour festival in its own right. Release the Funk has a deeper footprint though, bringing in known and lauded sour producers such as Allagash, Upland, Scratch, Cascade and Jester King, among others.
You can see the entire lineup here, and Glunt says he's really excited about people being able to try breweries that normally don't distribute in the area.
"It's unbelievable the amount of breweries that are coming in through special events permits," Glunt says, pointing out Oxbow (Maine), Transmitter (New York) and Casa Agria (California), to name a few. "That's a lot of paperwork, and for them to go through all that just to pour beer at our event is awesome."
A limited amount of tickets are still available, and it'd be wise to act sooner than later if you're still on the fence, as every Release the Funk has sold out by the day of the event. As in previous years, Salud will also be throwing a pre-party Friday before the festival at the shop; this year's featured taps will be from Fonta Flora, Free Range and Oxbow.
Glunt says it's been incredible to see this festival grow in such a short time, and that's a testament to sour beers becoming more and more popular in craft beer circles.
"I want people to try as many new beers as possible and open their eyes to new flavors," he says. "There's going to be some beers they don't like, and some they like … just drink them with new people and make some new friends, that's what it's all about, have a great time in this community."
And, as always, he adds with a laugh, "We'll be handing out TUMS."