Salud's Nanobrewery Grand Opening Party Tuesday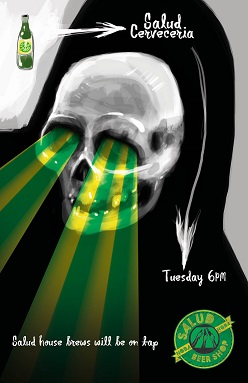 Slowly but surely, Salud Beer Shop's nanobrewery has been coming along. A few beers have popped up at recent festivals and you may have even seen a beer or two on tap at the shop.
Now, Salud is ready to roll out a full lineup this Tuesday as part of the Salud Cerveceria grand opening party. "Cerveceria" is "brewery" in Spanish, and you'll be able to try six different beers on tap, brewed by local famed homebrewers Denny Deaton and Shawn McBride.
It's been a long, long journey," Salud owner Jason Glunt says. "It's been a lot harder than I thought but I'm really excited for everyone to come in and try our beers. It's truly been a labor of love for us."
With a one-barrel system, it's allowed the brewers to be creative in what they're putting on tap. And just as creative are the beer's names. Here's the lineup for Tuesday beginning at 6 p.m., along with a few notes:
Like A Ship – a Brett IPA named after perhaps the greatest gospel song ever created
My Interpretation of the Situation – an IPA brewed with Satsuma tangerines named after perhaps the greatest SONG ever created
Chef Curry – a Russian Imperial Stout brewed with coconuts that looks to go 0 to 100 real quick
El Quarto Gringo – a stout brewed with mole from Three Amigos
Ginevere – a gin barrel-aged bier de miel brewed with lemon balm
Betty White IPA – self-explanatory, and thank you for being a friend
Salud debuted two beers at Brawley's Black & Blue a few weeks ago, and both received solid fanfare. Glunt says he's enjoyed the feedback so far.
"It's been great seeing some of the reviews on Untapped – even the bad ones … if there are some people who love our beer and some who hate our beer then I think we're doing the right thing," he adds, laughing.
Moving forward, look for Salud to keep brewing "once or twice a week," according to Glunt. The nanobrewery's beers will be focused in-house only, and there is a possibility a few kegs will show up at local special events (such as Black & Blue and Salud's annual SourFest).