Salud's sour beer festival draws record number of breweries this year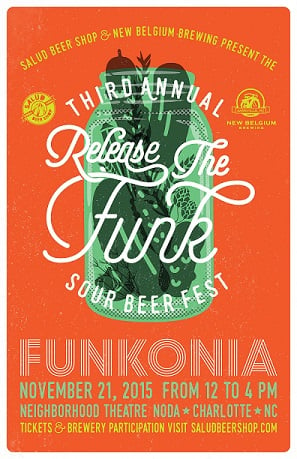 When Salud Beer Shop owner Jason Glunt first drew up the idea of having a sour beer festival in Charlotte in early 2013, he had his work cut out, having to physically go to and call on breweries to seek participation.
That isn't a problem anymore, as the 2015 "Release the Funk" festival is set to be the biggest yet, with more than 40 breweries pouring this Saturday. This year's sourfest, dubbed "Funkonia," will take place once again at Neighborhood Theatre from noon to 4 p.m. (As of this writing, there are less than 20 tickets left, so act fast if you want to go.)
"It's crazy; we've had breweries out of the blue emailing me, which is an awesome feeling," Glunt says. "You don't hear of many sour festivals across the country, so it's definitely getting accepted more in the mainstream public, and that's a great thing."
Among those 40-plus breweries are several local participants, including Birdsong, D9, Free Range, Heist, Lenny Boy, NoDa, Triple C, Unknown and Wooden Robot. They'll join sour titans Allagash, Cascade, Natty Greene's, New Belgium (which is the primary sponsor of the festival) and Wicked Weed, among others, including first-time participants in Upland and Wrecking Bar. Click here for the full list of breweries and beers in all its glory.
"I think the best part is all the local breweries and regional breweries," Glunt says. "I didn't even know we were featuring that many until I was writing the list out to send off to the printer. It's pretty cool to see how far it's come from even two years ago. It was hard to find enough sour beers then."
Sour beers have enjoyed a recent rise in popularity among craft beer drinkers. The flavors in sour beers are like none other, jumping off your palate. Some people enjoy the crisp and refreshing lightness of certain sour beers, while others appreciate the wide-ranging unique ingredients many sours are brewed with.
Most people get into sour beers at a later point in their craft beer journey, and Glunt says it's a natural progression.
"When you first start drinking beer, you begin with your watery lagers, then discover craft beer," he says. "Most will try an IPA or pale ale first and think, 'Wow the hops are crazy.' Then you drink all the IPAs you can drink and continue evolving and think, 'Let me try a sour beer.'
"The first time you taste it you probably think it tastes horrible, but eventually your palate changes and discovers a whole different flavor profile from your traditional beer. I also find a lot of wine people are getting into sours. The acidity, the effervescence of sour beers – all of that works really well with people who usually drink wine."
While this is Salud's third year hosting the festival, it will mark the shop's debut pouring its own beer. Salud's nanobrewery, which began last month, will feature a Brett IPA and old sour ale, among others, at the festival. (And look for an official Salud brewery release party next month, with future beers such as an IPA with curry and a porter with smoked sea salt, sage and butternut squash.)
"It hasn't even hit me yet; I'm excited to get feedback from everyone," Glunt says. "To have our name there and pouring is pretty cool."
While Glunt says he can't wait to try every brewery's beer, he also highlighted a few to look out for on Saturday.
"I always love Allagash; they don't make a bad beer," he says. "Natty Greene's of course always brings the heat; they've got five beers this year. I'm also really excited about what Burial is bringing, and Haw River is bringing three beers I've never had that all sound really amazing.
"Locally, Free Range, those guys are doing great things. Eric (Mitchell, head brewer at Heist) bought a barrel last year right after the festival and aged a peach raspberry sour in it that he's releasing just for this year's festival. And Todd (Boera, head brewer at Fonta Flora) has quickly gained a cult following for what they're doing."
For those attending a sour festival for the first time, Glunt's simple advice is to "take your time."
"The main thing I tell everyone with sours is the three-sip rule," he says. "The first sip will mess with your palate, the second sip it will start to taste like it's supposed to and by the third sip you should get the flavors that are meant to be," he says. "Start with Brett beers, Berliner Weisses and Goses, and by the end of the day, try out the dark sours. Over time you'll find what you'll like."
There's also going to be a non-sour table at the festival featuring three beers from Founders, including Mosaic Promise IPA and Breakfast Stout, for those who need a palate break. Fud at Salud will have a special menu at Funkonia if you want to purchase food, and there will be festival T-shirts for sale on Saturday. Salud is also hosting a "Pre-Release the Funk" party, which will take place at the bottle shop on Friday beginning at 7 p.m. At the pre-party, Burial, Fonta Flora and Wicked Weed will have four taps each to get you ready for Saturday.
Past Release the Funk festivals have also included several surprises being poured, much to the excitement of longtime sour beer fans. When asked if that will be the case for Funkonia, Glunt responded coyly.
"Possibly," he says with a smile. "You never know; we're always working on something."