Salud's sour festival set to take you on a Funky Ride Saturday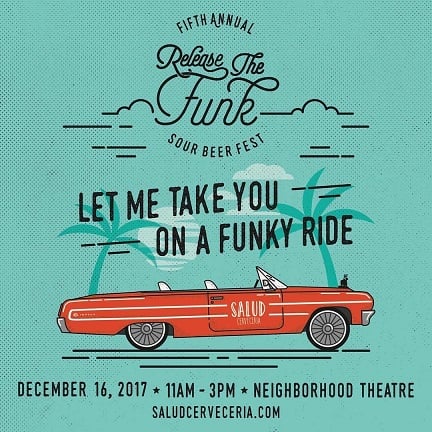 Let's get this out of the way: It's cliché to say something is always better than the year before. But for Salud Beer Shop's annual sour beer festival, it's not just a saying; it's a fact – particularly because of Salud owner and festival organizer Jason Glunt's drive.
"It's kind of something I feel like we have to do," Glunt says. "People have high expectations and are always looking for the next big thing, especially in beer. So not only do we want to keep those expectations; we want to make it the best each year for everyone."
Now entering year 5, Salud's Release the Funk festival Saturday at Neighborhood Theatre promises two main things: Some of the best sour beer and wild ales throughout the country, all set to the backdrop of the old school hip-hop the bottle shop located in NoDa has become known for (this year's festival theme is "Let Me Take You on a Funky Ride, an homage to the very underrated track from OutKast's debut album).
Simply put, what keeps this festival exceeding expectations each year is the beer. Glunt works hard to bring in the best of the best when it comes to sour beers across the nation, including some of the top producers in Avery (Colo.), Council (Calif.) and Jester King (Texas). Sending the festival to new heights this year is the addition of the world-renowned Belgium breweries Cantillon and Drie Fonteinen.
"Sometimes you just gotta ask," says Glunt with a laugh. "Having those two here is huge, though. I thought at best we'd just get a couple of cases of bottles to pour, but to get kegs was great."
In all, 58 breweries will be pouring at the festival, including locals in Free Range, Heist, NoDa, Resident Culture and Wooden Robot, along with Salud's own brewery upstairs from the shop, Salud Cerveceria.
Glunt says it's tough to pick just a few favorites, but acknowledges he's excited about a few newcomers in the Triangle's Barrel Culture and Brewery Bhavana, as well as Carolina Bauernhaus in South Carolina, which won a gold medal at the 2017 Great American Beer Festival for its rye saison, Opuntia. Glunt also has close ties with good friend Todd Boera, the head brewer making quite a name for himself across the country with his sour beers at Morganton's Fonta Flora Brewery.
"With Todd, he always brings some great beers and everyone knows about Fonta Flora now, so I expect a lot of people over at that table," Glunt says.
On the topic of crowds, that's something you won't find much of at this festival. Glunt limits the ticket sales so everyone never has to wait too long for a beer and also has an opportunity to speak with some of the brewers about what they are drinking.
"That's the sort of thing we do to give us that exclusivity," says Glunt, who also works with local artists on hand-drawn invitations to each brewery. "We have these personalized touches because we want to be unique – keep it niche and boutique."
And while the festival is Saturday beginning at 11 a.m., Salud Cerveceria has both a pre-party Friday and afterparty Saturday. Friday's pre-party beginning at 6 p.m. will feature many of the breweries at Release the Funk, including Central State, Fonta Flora, Kent Falls, Scratch and Zebulon, which has a special sour blend made exclusively for the pre-party. Also on tap Friday will be Tropical Ponche, a Berliner Weisse collaboration between Salud Cerveceria and Resident Culture. The afterparty starts at 4 p.m. and goes until midnight Saturday, as Salud Cerveceria will have two bands, Funk You and Litz, along with a full taplist.
Only a handful of tickets remain for Release the Funk, so act quickly. Tickets, which can be purchased here, are $70 each and get you unlimited samples plus a special tasting glass. Füd at Salud will also have food for sale at the festival.