Salute to Tiffany Jones, a Digital Diva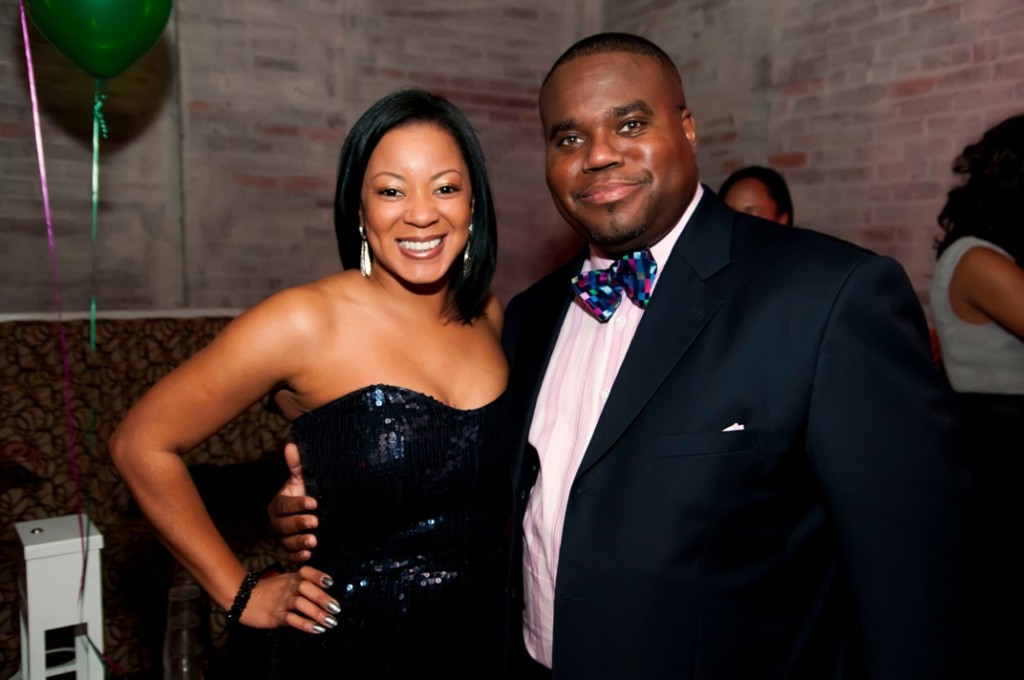 Saturday night, I had the most fun I've had at a party in awhile. It should come as no surprise that it was an occasion celebrating the young lady who's been responsible for countless great parties and events since I've lived in Charlotte. Hundreds of her friends and colleagues gathered at The Sunset Club for a private "send-off party" for Tiffany L. Jones, who, after eight years in the Queen City is moving to the Big Apple to begin a new job (it was also a party for Carl Smith, who's moving from Charlotte to London.)
It was a who's who of black professionals in attendance Saturday night (click here to see photos), just as it has often been at the dozens of events Tiffany has coordinated over the years through her event planning firm, Digital Divas. You've likely seen photos from her events appear in the pages of Charlotte magazine.
Saturday night was special because I was able to toast to someone whom many of us in Charlotte consider either a great friend or valuable resource (or both). It was also special because it took me back to when I first began attending Tiffany's parties around 2006 or so. I moved to Charlotte during the summer of 2005, a transplant like most of you, and only knew a handful of people here. I don't recall how or when I first met Tiffany, but I quickly learned that a Digital Divas event was one that I shouldn't miss.
During those early years, in 2006 and 2007, before there was an EpiCentre (construction had just begun) or NC Music Factory (the massive old warehouse was undergoing heavy renovation), when there were half as many bars, nightclubs, and lounges in neighborhoods like South End, Plaza Midwood, and NoDa, young professionals had a difficult time figuring out where to go for a good after-work social or late-night party. Tiffany was our guide. And even after all of those aforementioned venues opened over the last two or three years, we still went where Tiffany led us.
I remember being at Tiffany's birthday party at The Sunset Club nearly three years ago; then seeing photos from it a few days later only to discover that Michael Jordan had been in VIP a few feet away from me.
I remember a few years ago, while I was an associate editor at Charlotte magazine, wanting to get in touch with a top Carolina Panthers draft pick for a story and photo shoot. He'd only been in the city for a few weeks and it was difficult getting a contact for him. I called Tiffany and she put me in touch with him within a day or two.
I remember going to a launch party at Bentley's on 27 for a national magazine that was expanding into Charlotte. The only reason I even knew about the event was because Tiffany forwarded me the invitation. I ended up meeting the editor-in-chief, having a great conversation, and then writing for that magazine for two years.
I remember last summer being in a meeting with an executive at a Fortune 500 company here in Charlotte. While we engaged in small talk before the meeting began, he asked me if I knew Tiffany Jones.
That's one of the things I'm going to miss about her: Tiffany knows people. But despite all of the people she knows, it's been our—and certainly my—privilege to know her.
This isn't a sad occasion, however. You want to see your friends reach new heights, even if that takes them to another city. Plus, Tiffany promises she'll visit often from New York. In fact, she's putting on her annual itinerary of events (day and night parties, plus Sunday brunch) about a month from now when the CIAA Tournament runs in Charlotte for the seventh consecutive year.
Thank you, Tiffany, for all of the great memories…and for the ones to come.
Be sure to bookmark www.charlottemagazine.com/Blogs/Dusk-Till-Dawn to stay plugged into Charlotte nightlife.