Salvaged Beauty Opens Sunday
The new collective in NoDa is full of vintage finds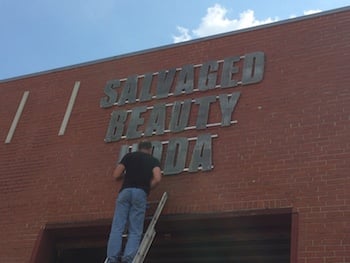 This Sunday, the NoDa neighborhood gains another eclectic spot. Across the parking lot from Amélie's and beside the soon-to-open Free Range Brewing, Salvaged Beauty officially opens its doors on Sunday, June 21, at noon.
Owners Joni and Joe Jensen, NoDa residents, have had the idea for a long time. They've been in the antiquing, repurposing business for years, having booths at antique malls and festivals. But now they have a permanent spot. And they hope others will join them.
Eighteen vendors have space inside. Local artists and crafters, such as Small Keys with its small-batch soaps and Carolina Reclaimed with furniture made from repurposed wood, are among others who primarily sell antiques and vintage items. Several of the vendors also have space in Sleepy Poet Antique Mall on South Boulevard.
One area is designated for vintage vinyl, including turntables and items made from old records, such as cuff-style bracelets. Kids furniture and vintage toys are prominent, and children are welcome to play with them. Most things in the shop are interactive. The chairs are for sitting. The vintage arcade games are for playing. A selection of old doors, windows, and other items are available for those looking for a repurposing project of their own.
The Jensens' three children are involved in the space, as well. Their daughter is a crafter, and their two sons are in a band. It's sometimes difficult for musicians who aren't yet 21 to find a space to play because of alcohol restrictions, Joni says. She and Joe intend to have open-mic nights on the stage in the back left of the building. Wednesdays and Sundays will be designated open-mic nights, as well as open-market days where temporary vendors can set up outside.
The Jensens hope that Salvaged Beauty becomes a neighborhood hangout. Joni envisions people stopping by Amélie's for a snack, bringing it to Salvaged Beauty to peruse the offerings or hear some music, and then heading over to Free Range for a pint.
Grand opening hours on Sunday, June 21 are noon-7 p.m. Summer store hours beginning June 24: Wednesday, 6 p.m.-10 p.m. (open mic/open market); Thursday, 6 p.m.-10 p.m.; Friday and Saturday, 10 a.m.-10 p.m.; Sunday, noon-6 p.m. (open mic/open market). Salvaged Beauty, 2320 N. Davidson St., Suite C.