Savory Fall Recipes from Chef Alyssa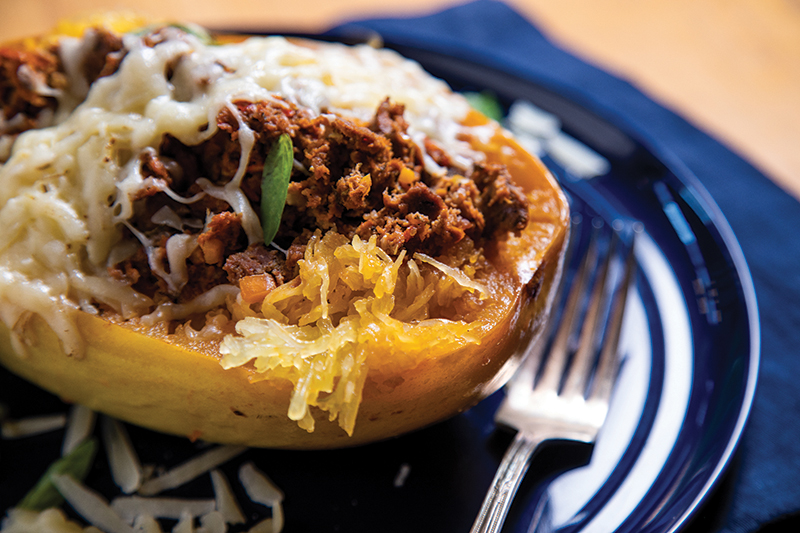 USING SEASONAL INGREDIENTS is healthier and tastier. Take advantage of fall's many fresh squash varieties available with these creative takes.
---
Bolognese-Stuffed Spaghetti Squash
Serves 4
Prep time: 10 minutes
Cook time: 45 to 60 minutes
1 medium spaghetti squash
¾ pound ground beef
½ pound ground pork
2 strips uncooked bacon, diced
1 medium yellow onion, finely chopped
1 stalk celery, finely chopped
2 carrots, peeled, finely chopped (about ¾ cup)
5-6 garlic cloves, minced
⅓ cup dry red wine
¼ cup tomato paste
¼ teaspoon red pepper flakes, more to taste
2 tablespoons extra virgin olive oil
Salt and pepper to taste
Finely grated Parmesan (for serving)
Fresh chopped parsley for garnish
1. Preheat oven to 400°F. Place a cast iron skillet into the oven to heat up as the oven comes to temperature.
2. Cut squash in half lengthwise and scoop out the seeds. Season the inside with salt and pepper and set aside.
3. To make the Bolognese, place beef and pork into a bowl and mix in the bacon, vegetables, garlic, red wine, tomato paste, red pepper flakes, and salt to taste.
4. Stuff the Bolognese into the cavity of the spaghetti squash. Remove the skillet from the oven and add olive oil to the pan. Place the stuffed squash open-side down in the pan, so the meat is touching the pan, and cover the skillet with aluminum foil. Place back into the oven and cook for 45 minutes to an hour. The dish is ready when the squash is tender, the edges are caramelized, and the Bolognese is fully cooked.
5. Using a large metal spatula, lift the stuffed squash from the skillet and invert to place the open-side up on a serving plate.
6. Before serving, use a fork to fluff up some of the spaghetti-like shreds of the squash. Serve garnished with cheese and parsley.
---
Grilled Squash Skewers With Whipped Ricotta
Serves 6 to 8 as an appetizer
Prep time: 30 minutes
Cook time: 30 minutes
2 cups fresh ricotta cheese, drained
1 teaspoon salt
3 sprigs sage
¼ cup canola oil
1 cup balsamic vinegar
1 medium butternut squash, peeled and diced into 1-inch pieces
3 medium zucchini, diced into 1-inch pieces
Extra virgin olive oil
Salt and pepper to taste
1. In a food processor, purée together the ricotta and salt until smooth. Place in a bowl, cover, and refrigerate.
2. In a small sauté pan, heat the canola oil on medium-high until it gets to about 450°F. (You can test the temperature by sprinkling a little flour. If it sizzles, the oil is ready.) Pull the sage leaves off the stem and flatten them out if they are folded. Fry them until they become a forest green color. Remove and drain on a paper towel. Set aside.
3. Discard the hot oil into a bowl. Using a towel, wipe out the pan of oil residue. You'll use this pan to make the balsamic reduction. Add the vinegar and cook on medium-high heat and reduce consistency to a glaze that just coats the surface of the pan. This will take about 10-15 minutes and will need to be at a high simmer the entire time. Stir occasionally to ensure it does not reduce too far. Use a metal spoon to scoop some of the liquid up and allow it to pour off of the spoon to check how thick the reduction is becoming. Turn off the heat once it is reduced to the thickness of maple syrup.
4. Thread the squash and zucchini alternately onto bamboo skewers.
5. Heat a grill or cast iron grill plate to 500°F. Drizzle the vegetable skewer with oil, then sear them on the hot grill until they develop grill marks and become tender; this is usually when they become bright orange and green. Remove from the heat and season with salt and pepper.
6. To plate, spread the ricotta onto a serving plate. Arrange the skewers, then drizzle with balsamic reduction. Note: if the balsamic is really sticky or over-reduced, you can re-heat it on low, or add a splash of un-reduced balsamic vinegar to bring it back to a fluid consistency.
7. Garnish with fried sage leaves.
---
Charred Acorn Squash and Eggplant With Korean Bbq and Tahini Sauce
Serves 6 to 8 as an appetizer
Prep time: 45 minutes
Cook time: 30 minutes
Vegetables:
1 small acorn squash
3 Japanese eggplants
¼ cup unsalted butter
¼ cup extra virgin olive oil
Salt to taste
1. Slice the squash in half lengthwise. Remove the seeds and cut into ½-inch half-moon slices. Slice the eggplant into 1-inch angled slices.
2. Heat a large skillet on medium-high and add 2 tablespoons each of the butter and olive oil. When the butter is melted and sizzles, place as much acorn squash and eggplant slices in the pan as will cover the bottom (about half). As the skillet rises in temperature, the vegetables will caramelize and soften. When they become a deep golden brown and roasted, turn and caramelize on the other side. Remove from the pan and season. Wipe out the pan of excess oils and repeat the process with the remaining vegetables.
3. Add all the cooked vegetables into the pan and drizzle with a little of each sauce (recipes follow).
Korean BBQ sauce:
2 tablespoons gochujang
1 tablespoon sesame oil
1 tablespoon sugar
1 tablespoon water
1 tablespoon roasted sesame seeds
1 teaspoon apple cider vinegar
1 teaspoon minced garlic
1. Mix the sauce ingredients in a bowl and
set aside.
Tahini sauce:
½ cup tahini
1 tablespoon + 1 teaspoon fresh lemon juice
½ teaspoon kosher salt, more to taste
4 cloves of garlic, grated into a paste
¼ to ½ cup water
1. Whisk the tahini sauce in a bowl until smooth. Adjust consistency with water and season to taste.