Sayonara Sod
Four creative (and beautiful) ideas for replacing your lawn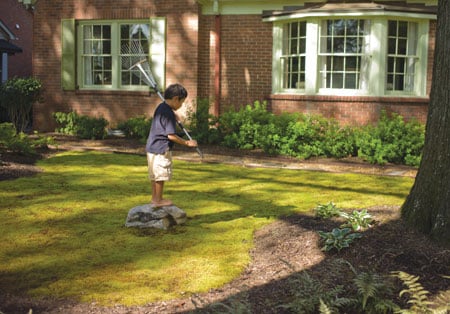 Marc and Le Anne Kieffer love the towering oak trees in the front yard of their Dilworth home, but the shade from the tree canopies made it impossible to grow grass. Tired of looking at patches of dirt and clover where their grass should be, the couple hired The Essential Gardener to replace their grass with moss.
"The moss is all of these great shades of green, and it looks so unusual next to the plain green lawns in the neighborhood," says Le Anne. "It feels like a fairytale woodland garden; we feel like Alice in Wonderland walking through the garden."
The moss requires little maintenance—and no mowing—making it a great option for the entrepreneurs with two small children. In Charlotte and across the nation, substituting sod is a growing trend.
"About half the calls we get are from homeowners who want to reduce their turf area," explains Mike Kenerley, owner and operator of The Essential Gardener.
The switch is good for the environment: according to the U.S. Environmental Protection Agency, it takes sixty-seven million pounds of synthetic fertilizer, 580 million gallons of gasoline, and two-and-a-half trillion gallons of water annually to maintain American lawns.
Tired of your turf? Consider these alternatives:
• Grow your groceries: Trading a swath of lawn for a garden filled with tomatoes, peppers, car- rots, and cucumbers is more popular than ever. "The local food movement has brought the home garden movement back," says Kenerley. "You can't get much more local than your own yard." Some homeowners opt for several raised beds overflowing with fresh produce, while others want a small patch of herbs. Either way, Kenerley believes having fresh food outside the front door is a great alternative to a traditional lawn.
• Entertain a new view: When it comes to creating outdoor living areas, Kenerley believes "too many people ignore their front landscapes." Instead of limiting patios to the backyard, bring al fresco enter- taining to the front of the house. A flagstone patio surrounded by native plants such as creeping phlox, oat grass, or bee balm means less lawn maintenance and more time enjoy- ing the outdoors (and connecting with your neighbors).
• Consider different grasses: Traditional fescue and Bermuda grasses aren't the only options if you want an expanse of green surrounding the house. "There are ground covers that will give you low-growing coverage," Kenerley says. Plants such as dwarf mondo grass, Dutch white clover, and ajuga can all be used as lawn replacements. But, Kenerley warns, replacing grass with groundcover can be expensive and might not be practical for homeowners with children and pets.
• Think functional and playful: A show-stopping landscape doesn't have to be limited to grass and gar- dens. The Essential Gardener worked with one Dilworth family to turn their front yard into a bocce ball court. "They wanted an outdoor space where they could play together as a family," Kenerley says. Not into bocce ball? Consider replacing your lawn with a labyrinth, shuffleboard court, or artificial turf for a putting green.