Schindler's Voice
Rabbi Judy Schindler, who leads the largest Reform congregation in the Carolinas, is the latest, and most passionate, in a long line of Charlotte clergy to speak out for social justice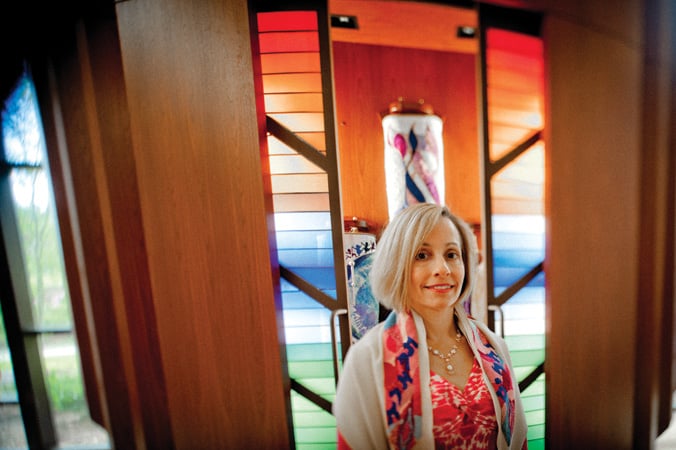 On a Tuesday night in March, there is an overflow crowd at the McColl Family Theater in ImaginOn for Levine Museum of the New South's "A Woman's Place" event, where newly installed Davidson College president Carol Quillen is giving the keynote address. But it's safe to say that the majority of the attendees are here to honor Charlotte's 2011 Woman of the Year, Rabbi Judy Schindler.
Around Charlotte, the woman acknowledged for her passion for causes that have bedeviled society for ages—civil rights, gay rights, affordable housing, poverty, racial mistrust—is known simply as Rabbi Judy.
"Through fortitude and strong conviction, Rabbi Judy stands up for children, for people in poverty, for people of color," says Carol Hardison, executive director of Crisis Assistance Ministry, in her introduction. Schindler strides on stage dressed in a bold striped dress, sporting her trademark bob. She begins her acceptance speech with an admission: as a rabbinical student, she was terrified of public speaking. That's hard to believe coming from one of Charlotte's most prominent voices. Her speech is part thank you, part lesson on kol isha—Hebrew for "the voice of a woman."
In traditional Judaism, women could not be religious leaders because rabbis believed their voices had the power to distract men.
"The rabbis were correct in their assessment that the voice of a woman has power," she tells the audience in an accent that betrays her New York–area roots. "A woman's voice has power when it is in dialogue with a man's voice to debate the challenges our community and country are facing and to decide on the best path to take, when it is in dialogue with society, when it speaks not only to the children inside the home but to all children."
Schindler speaks with an authority and confidence honed by years of sermons. "Kol isha. A woman's voice has impact when it joins in the chorus of those who cry out for the equality for all human beings: educational equity, racial equality, economic opportunity, and religious freedom for all—when it demands the divine image within every human being be acknowledged and respected." She brings the crowd to its feet several times.
A week later, Schindler is in a different kind of spotlight, as she and thirty other Charlotte-area clergy rally at the corner of Trade and Tryon against Amendment One, the now-passed ballot initiative that focuses mainly on preventing same-sex marriage. Flanked by supporters holding a "Standing On the Side of Love" banner, Schindler tells the crowd, "We are here to protect the strangers from those who see our LGBT brothers and sisters as outsiders and want to dehumanize them."
She pushes back against hecklers who are chanting scripture in an attempt to drown out the speakers. "This is a dangerous law. It discriminates. It alienates," she says in a voice that seems almost too big for her size.
John Cleghorn, pastor of Caldwell Presbyterian Church, got to know Schindler when their children attended school together. Opposition to Amendment One is just one of many community and social issues on which the two have worked together. "Charlotte has had a long tradition of people of faith speaking out," says Cleghorn. "Those voices have sort of come and gone over the years. Right now, the voices for advocacy and justice have been brought out more clearly through some of the debates underway in the community like sexuality or homelessness and poverty. Even though Judy and I come from different faith traditions, we share a common understanding of how scripture can be an agent of justice."
"We're proud of everything she does in the community," says Temple Israel's Rabbi Murray Ezring. "She is living the life and presenting the values that Judaism has stood for since our people were created—that every human being is created in the image of God and deserves the same respect as any other human being."
Schindler tries to put the praise in perspective. "Politicians have to try to speak to both sides," she says. "As clergy, I can search deep inside my soul and speak the truth as I see it without worrying about who's going to vote for me. I want to help Charlotte become that vision of the New South that doesn't divide and creates a community for all of us."
For nearly a decade, Schindler has been senior rabbi of Temple Beth El, the largest Reform congregation in the Carolinas. She is the first woman to hold the job, one of the only women in the city to lead a religious congregation of more than a thousand families, and one of only a handful of women rabbis in the country leading a synagogue of this size. It's what she calls "shattering the stained-glass ceiling."
In March, Schindler, front right, led a group of clergy in a protest in the center of uptown against Amendment One. It's just one of the many causes about which she is vocal.
She pauses when asked if she considers herself a feminist, a question that didn't really come up until she entered the clergy. "How can I not be a feminist and honor all those women who paved the way for me to do what I do?" she asks. "It's my responsibility to show the women of our community and congregation that you can follow your passion and raise children and make a difference in the world."
In addition to Charlotte Woman of the Year, Schindler has received several other humanitarian awards. Despite being identified as a liberal firebrand, her mission to create a community that embraces its different populations and treats them with dignity has earned her near universal respect, if not agreement.
Not bad for someone who stumbled into her profession. "I never dreamed I'd be a congregational rabbi or run a big congregation," she says. "Never in a million years."
Schindler was born into what has been called "the first family of Reform Judaism." Activism is part of her ancestral DNA. During the 1930s, her paternal grandfather, Eliezer Schindler, wrote for an underground Yiddish newspaper. He left Germany for Switzerland the day Hitler came to power. "He'd read Mein Kampf and knew what Hitler was capable of," she says.
Five years later, when the Nazis burned a Munich synagogue, Eliezer's wife, daughter, and twelve-year-old son, Alexander, fled the city to join him. The family later immigrated to America and settled in Manhattan's Washington Heights. Alexander became an army ski trooper and returned to Europe to fight in World War II. Schindler says her father became a rabbi in 1953 as a way to save the Jewish people and deny Hitler a posthumous victory.
The family moved to the upscale coastal town of Westport, Connecticut, and Alexander rose quickly through the ranks of the Reform movement, becoming president of the Union of American Hebrew Congregations in 1973. Still, he actively discouraged his sons from entering the clergy.
"My dad led the American Reform movement of eight hundred and fifty synagogues and one and a half million Jews for twenty-three years. He met with presidents and prime ministers and had this really glorious career," says Schindler. "He thought my brothers had a glamorized view of what it meant to be a rabbi and that they wouldn't enjoy being a congregational rabbi." Alexander never bothered to make that case to his three daughters, since being a female rabbi was not a reality.
Schindler spent her tenth- and twelfth-grade years in Israel, aiding soldiers during the Lebanon War. In 1984, she returned home and enrolled in Tufts University, where she graduated magna cum laude with a degree in clinical psychology. She moved to California and worked with emotionally disturbed women and children. A scene she witnessed at a group home prompted a career change.
"There was a child with a bullet lodged in her skull from her dad who abused her. A little boy asked her, 'Do you believe in God?' She said, 'No.' I remember thinking, 'Why would you believe in God if your parents are abusive?' [Parents] are sort of our model for God. That's when I realized that, although faith is a critical part of healing, it is something you need to instill. I decided I'd rather work at instilling faith than at trying to bring faith to people to help them heal after a terrible event."
She went on to get a master's degree from the Hebrew Union College in Los Angeles and was ordained at the Hebrew Union College in New York in 1995. "I was planning to get three master's degrees: one in social work, one in clinical psychology, and a third in Jewish communal service," she told The Charlotte Observer. "I realized I could do all three by being a rabbi."
It was while working as an associate rabbi at a Scarsdale, New York, synagogue that she met her husband, Chip Wallach, a banker and transplanted New Yorker. "I was his mother's rabbi and we met at her funeral," explains Schindler. They married a year later, and Schindler relocated to the Queen City as part-time associate rabbi at Beth El.
Wallach grew up going to temple, but he was not very religious. Being married to a rabbi has not changed that. The man who jokingly calls himself "Mr. Rabbi Judy" admits he didn't really understand what marrying a rabbi entailed, particularly the requisite time and emotional commitment.
Nonetheless, he has been very supportive of her career and her passion.
When senior rabbi Jim Bennett left Beth El in 2003, Wallach encouraged his wife to join the twenty-two men who applied to take his place.
"Working in banking where moving up is always the goal, I thought she could either go for the senior job or continue to work part-time—which meant fifty hours a week—for someone else," he says.
The choice wasn't so clear-cut for the mom of two toddlers. At the time, Maxwell was three and Alec was one. She ultimately concluded that, if all women opted to stay home, then all the decisions would be made by men. That, in her opinion, was not a good thing.
Temple Beth El is a grand white Jerusalem-stone structure in Shalom Park in south Charlotte. Most Friday nights and Saturday mornings, Schindler can be found on the bimah (reader's platform) in the sanctuary, dressed in flowing white robe and tallit (prayer shawl), delivering twenty-minute sermons on topics such as faith, social justice, and moral courage.
On a weekday afternoon, she sits in her office, surrounded by books, awards, and family photographs, dressed casually and fashionably in grey slacks. She has the air of someone accustomed to talking to the press—friendly and engaging, approachable yet choosing her words carefully.
"The beauty of being a Jew in the South is that you really have to know who you are," she tells me. "Jews really want that community, so they come [to synagogue] in a lot greater numbers than they do in the north. In New York, you don't have to define Judaism. You don't need to go to synagogue. Here, everyone is going to church. It really makes for a strong and beautiful synagogue."
Rabbi Ezring agrees that temple is better attended in Charlotte than in New York but disagrees on the reason. "I believe the religious direction of Charlotte overall is what brings more people to services here than in other communities. Religion is a big focus of the community."
The traditional side of Judaism, Orthodox or Conservative, tends to be more insular. But Reform Jews believe they have a responsibility to educate and partner with the larger community, particularly in a region of the country where the Jewish population is so small. Since becoming the congregation's rabbi, Schindler has worked to bring understanding among faiths through a sermon exchange among churches, mosques, and synagogues. She has pushed the congregation to embrace a platform of social justice and activism and to serve the underprivileged.
Moira Quinn Klein is president or lay leader of Temple Beth El. "Social justice and social action have always been part of the DNA of this congregation," she says. "Rabbi Judy is a remarkable scholar, educator, and leader, and has taken our temple farther along that continuum. She was the right rabbi for us at the right time."
There are some drawbacks to Schindler's activism, however. Over the years, some congregants have voiced concerns that she is too visible, too provocative, and too political. She shrugs off the criticism. "For me, issues of social justice are critical to being a religious person. To be a religious person and not create changes means you're not fulfilling the mandate of your faith."
Cleghorn says leading an activist ministry requires perspective. "It requires one to take the long view on certain issues, to know when and how to speak up to use one's voice in the most effective way. You can't speak up about everything, but you also can't remain on the sidelines. There's a balance in knowing when scripture compels us to speak up."
Speaking out against Amendment One was an easy call for Schindler. As it has on many social issues, the Reform movement took the lead on gay issues more than twenty years ago by allowing openly gay Jews to become rabbis. "My class was the first time you didn't have to straight-wash your resume so you didn't look gay," Schindler says with a laugh. The year before she arrived at Beth El, the board determined that gays and lesbians could be full members. In her mind, that means having the right to marry. She has performed several same-sex weddings at Temple Beth El. Last year, she and two other female clergy—a Unitarian and a Christian—traveled to Washington, D.C., to marry seven couples from their congregations.
Schindler begins the Friday before the May 8 primary like most Fridays: in the temple's Beit Midrash room leading the meditation for a Torah Yoga session, a class she began several years ago. It combines the Torah, the body of wisdom and law contained in Jewish scripture, and yoga, the ancient practice of using breathing and movement to enlighten body, mind, heart, and soul. "I needed it and knew that if I taught it, I would get it in," she says.
The week had been particularly stressful and frustrating. For a while, it looked as if the editorials, sermons, and aggressive ad campaigns had turned the tide against the so-called marriage amendment. But as new polls indicated that the amendment would pass by a healthy margin, Schindler became perplexed. "House Speaker [Thom] Tillis [a Republican from Cornelius] remarked that this amendment would be repealed in a generation. Why do we have to wait twenty years to remove discrimination when we can prevent it from being there in the first place?"
Nearly two decades as a rabbi has taught her patience, and a lifetime of activism has prepared her for inevitable setbacks. Still, Schindler's disappointment runs deep. Like Cleghorn, she takes the long view, believing, as Martin Luther King Jr. said, that the moral arc of the universe is long, but it bends toward justice.
Melba Newsome is a writer in Charlotte.