Selena Beaudry Exhibit at Hidell Brooks Gallery
Paintings, collages, and "piles" that catch the eye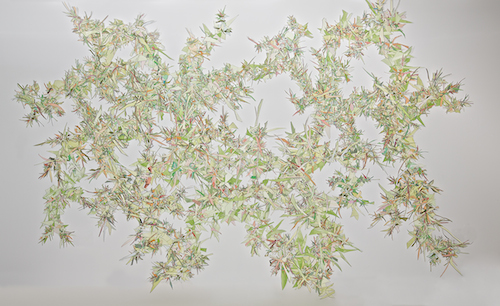 Someone who's spent 25 years in the art business has seen a multitude of styles. But when Rebecca Brooks, co-owner of Hidell Brooks Gallery in South End, walked into a frame shop and saw the work of Selena Beaudry, she discovered something different.
"It stopped us in our tracks," Brooks says of the moment she and business partner Katharine Hidell Thomas saw Beaudry's cutouts.
Beaudry, who lived in Charlotte but moved to London about a year ago, creates art by cutting up other art. She cuts her drawings in pieces and then assembles the pieces into intricate new forms. She creates collages that stretch across the canvas, "piles" that build up off the surface, and paintings that start with tracings of her collages.
Beaudry's exhibit "Color, Cut, Stripe + Mark" will be on display at Hidell Brooks Gallery through June 28. The pieces are for sale, but only a few of them remain unsold. The prices start at $950 and go up to more than $8,000.
The exhibit furthers Hidell Brooks' mission to bring unusual works to its visitors. The gallery has been around for 16 years, but the owners are always searching for something new. And they encourage those who are new to collecting to look at as much art as they can.
"The more you look, the more focused you get," Brooks says. "You're fine-tuning your eye, not by what other people say, just by being aware of your own response. We always tell people to 'Go with your gut.'"