Seller's Market?
Bidding wars have returned to Charlotte, but that doesn't mean the market has fully recovered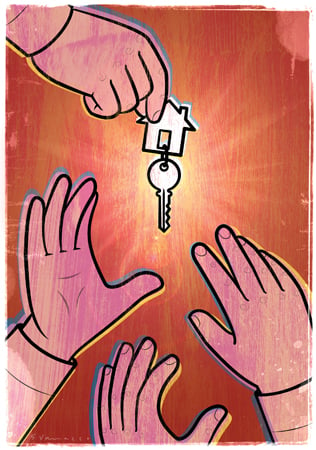 When Tammy and Norman Roland listed their home in the Stone Creek Ranch neighborhood in south Charlotte last summer, they prepared themselves for the grueling process of showing the house. But within 24 hours of their agents posting the listing, the house had a dozen showings and five competing bids.
The bidding war that ensued generated a sales price that was about $2,000 above asking—a loss compared to what they paid for it, but comforting nonetheless. "We had no idea the home would sell this fast or at the price we got," Norman says.
Bidding wars, more common during the market's heyday in 2005 and 2006, have been popping up again throughout Charlotte. It still takes an average of 145 days to sell a home here, but the bidding contests give hope to some sellers. Ryan Willis, with Boxwood Realty in Dilworth, recently had a client involved in a bidding war while trying to buy a home in Plaza Midwood. Other real estate agents have encountered the phenomenon in uptown, Elizabeth, and Huntersville. "I'm running into this as frequently as I did back in 2006," Willis says. "Ten percent of my transactions [in 2012] turned into bidding scenarios."
"Bidding wars are back in a big way," adds Jonathan Osman with Keller Williams. He handled a listing in the Beverly Woods neighborhood south of SouthPark that yielded four offers and resulted in a final sales price that was $30,000 above asking.
With average home prices in Charlotte down from $217,446 in January 2008 to $186,833 in January 2012, according to the Charlotte Regional Realtor Association, homeowners are sitting on the fence rather than selling. This means buyers' options are limited. "It's basic Econ 101," says Keith Thompson with Prudential Carolinas. "The demand is outnumbering the supply, and that puts you into bidding situations."
But the competitive pricing doesn't mean the Charlotte market is seeing a major upswing, says Daren Blomquist, vice president of RealtyTrac, a website that tracks national foreclosure activity. Banks and courts take so long to process foreclosure paperwork—in North Carolina last year, it took an average of 260 days from the initial notice until a bank took possession of the home—that those distressed homes are often not available to supplement the market supply. "The length of time [it takes to process a foreclosure] has created this backlog," Blomquist says. "Ultimately, bidding wars give a false sense that the market is recovering. You have all these foreclosures that are still there; they are just delayed. Eventually the market has to deal with [them] … In 2013 we should see more foreclosures, which will ease up the bidding wars."
The Backlog
Just how backed up are banks and the states with processing foreclosures? Quite a bit, says Daren Blomquist, vice president of RealtyTrac. In mid-2007, North Carolina took an average of 163 days to process a foreclosure. By mid-2012, it took an average of 260 days after the initial foreclosure notice for the bank to take possession of the home. But that's still faster than in many other states.