Shake Shack Opened in Charlotte Today, So I Finally Tried Babalu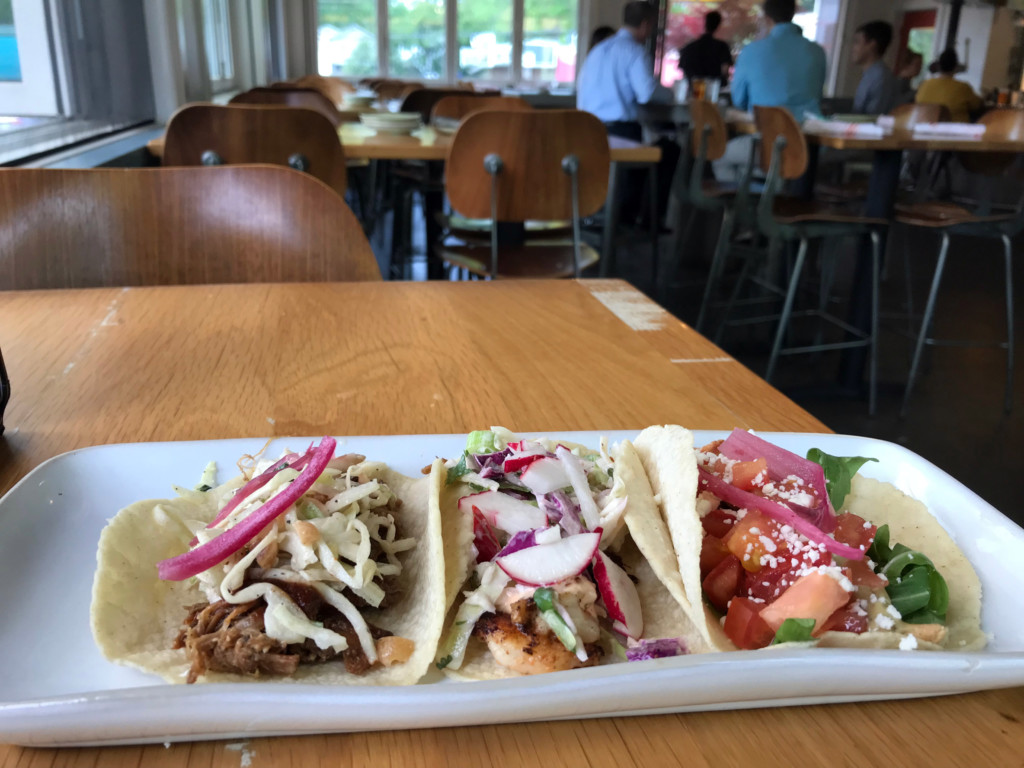 AT 11:10 A.M. on this historic Thursday, at presumably the exact moment the first Shake Shack customers in Charlotte history sunk into the first Shake Shack burgers sold in Charlotte history at the grand opening of the first Shake Shack in Charlotte history, Taylor Swift's "Blank Space" blared from the open windows at Babalu.
You remember Babalu, right?
It's back there in your gingham-filtered memories from the summer of 2016, when this excitable city took its first whiff of the taco and tapas chain's tableside guac perfume, sending hearts skipping up and down East Boulevard with lines so long they had to bring in parking attendants. It was love, or something like love, or at least feelings strong enough to put an Instagram on it.
Now, just two years and two miles from that glorious summer in Dilworth, you all lined up in a different neighborhood around a different building and a different chain and put it all over the internet like Babalu never mattered.
What do we like and what do we love? It's an important question. In some ways it's the only question. Like is smiling the first time something makes you lose a breath. Love is being there to cry for the last one. If there's a criticism of Charlotte, it's that we like things but lose interest before committing forever: music venues, restaurants, leaning in for the long haul on economic mobility.
At 11:15 a.m. on this historic Thursday, the passion of Charlotte's we-have-that-now-too past welcomed its first customers of the day, as two women pulled into the Babalu parking lot in a black Nissan Altima with Georgia tags. Out of towners, apparently, who must not have heard about the new place down the street. One ordered a beer and the other ordered a pink-colored margarita. I walked in after them and sat at a table by the window. After 21 months of avoiding the place, I figured it was time to try it out.
At long last, here is my internet-ready review, written in the heat of a rather lonesome moment a few miles from the big party:
I've been driving past this place for years but never stopped in. I've heard mixed opinions so I knew I needed to try it for myself finally. I have to say, it was OK but the food's a little overpriced!!! Tacos for $3.25 and $3.75?!?!?!? And they came out really tiny. C'mon. The Thursday special is $1 off of all craft beers, which sounds great until you look at the menu and see the regular price is $8.50. WHAT. So with the dollar off it that makes it $7.50 for a beer from Triple C or Wooden Robot?!? Please, I can get them for like $5 at the breweries, which are only a mile away! I guess I'm paying for the gas LOL. The food was ok, but my server was VERY nice and kept refilling my Coke. I tipped him more than 20% even though everything else was just average. Gotta look out your fellow man right? What else? Oh, ambience. It was ok. Taylor Swift was playing on the radio when I pulled up and I'm not a huge fan of her music but I certainly respect the career she's built. They have posters up on the wall from local music shows, even one from God Save the Queen City way back in 2016. Amen to that. There was hardly anybody there though. I was there from 11 to about 1 which you would think that would be the busy time but it only got half full at best. Again the staff was really nice so that's why I'm giving them three stars but if you're looking for a good tacos and tapas place you might want to try Southbound, the new spot not far from here which I've heard good things about.