Sheer Drama
How to choose a wedding veil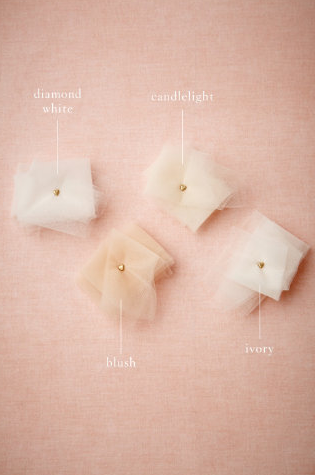 Traditionally a religious symbol for the bride's ensemble, the veil has become a regal accessory that adds dress drama, whether in the grandest cathedral or on an oceanfront gazebo. And with the expanded definition in purpose to this netted confection came a crop of new styles fitting for every style of "I do." From birdcage to cathedral, the possibilities are seemingly endless. And with a million other sartorial choices (not to mention planning) on her plate, a bride can find herself a bit overwhelmed. Not to worry though: we'll break them down style by style, and give you some pointers on what's best for what. Like the dress, your veil should match nuptial style in formality and feel.
Blusher (birdcage)
This flirty veil has a definite vintage feel. Popular in the '30s and '40s, the blusher falls over the face, ending just above or below the chin. For the bride going for an Old Hollywood feel or the fashion-forward bride, the blusher is very of-the-moment.
Elbow
The elbow-length veil is typically about 32" and ends at elbow length and is a bit fuller, draping slightly over the shoulders. For the traditional bride who doesn't want to conceal bodice or lower back adornments on her dress, the elbow veil is a great option.
Fingertip
About 38-40", the fingertip veil is less full and ends at the fingertips. This option falls mostly straight down over the back of the gown. Again this is a fitting option for the slightly more traditional bride.
Waltz
The Waltz veil falls to about mid-calf. For a bride who wishes to keep her veil on throughout the ceremony and reception, this very traditional–not to mention dramatic veil works well for dancing as well as sitting.
Floor
Just like the name implies, the floor-length veil grazes the floor, matching the length of the bride's bustled gown. The floor-length veil will add definite volume to the gown, so it's ideal for more fitted silhouettes.
Chapel
The Chapel veil creates the illusion of a train, flowing slightly beyond the hem of the gown. It's typically about 90" long. For a bride who loves the look of a train but doesn't want the hassle of a bustle, the Chapel is the perfect option.
Cathedral
The most dramatic of them all, the Cathedral veil drapes far beyond the train of the gown. Quintessentially regal, this 108-120" long veil will make an unforgettable entrance.