Shine On
New owners, fresh décor, and a huge menu have returned the sparkle to the historic Diamond restaurant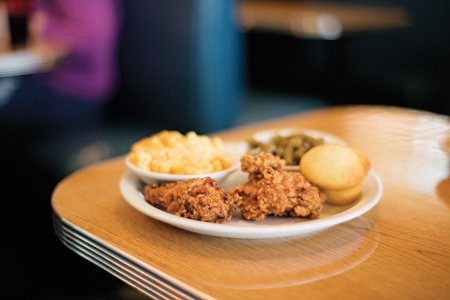 It can't be easy opening a restaurant with as many expectations as there were for Plaza Midwood's Diamond, but owners Jimmy King, Brian Rowe, John Fuller, and Andy Kastanas sure made it look that way. King and Rowe had to satisfy lovers of their former restaurant, the nearby Penguin, with a similar relaxed vibe—and fried pickles. Kastanas brought another constituency, with a bent for tapas, from his Soul Gastrolounge, just up the street. And, of course, the Diamond itself has been there since 1945—that's a lot of time to gain admirers for its diner-style fried chicken and vegetable sides.
Somehow, the owners have managed to incorporate all of these interests well enough to draw crowds that line up outside every night of the week. In the cozy fifties-style restaurant, with its retro teal booths, old-fashioned juke box, and casual bar, you'll find soups and salads, hot dogs, burgers, sandwiches, Greek specialties, grilled steaks, seafood, and plates like fried pork chops, deep-fried chicken livers, and, of course, that famous fried chicken.
Actually, frying things seems to be a trend at the Diamond. There are fried catfish and fried baloney sandwiches, home-fried potato chips, and even a tasty deep-fried corn on the cob. But the menu is as varied as the clientele, which ranges from neighborhood hipsters enjoying the bar's PBRs to SouthPark moms sharing heaping baskets of fried pickles. And with plans to eventually be open twenty-four hours a day, it's likely the small restaurant will continue to draw an eclectic crowd to sample its already popular-on-their-own dishes.
The Diamond
1901 Commonwealth Ave., 704-375-8959
$-$$, L, D, FSB