Shooting on UNC Charlotte Campus: What We Know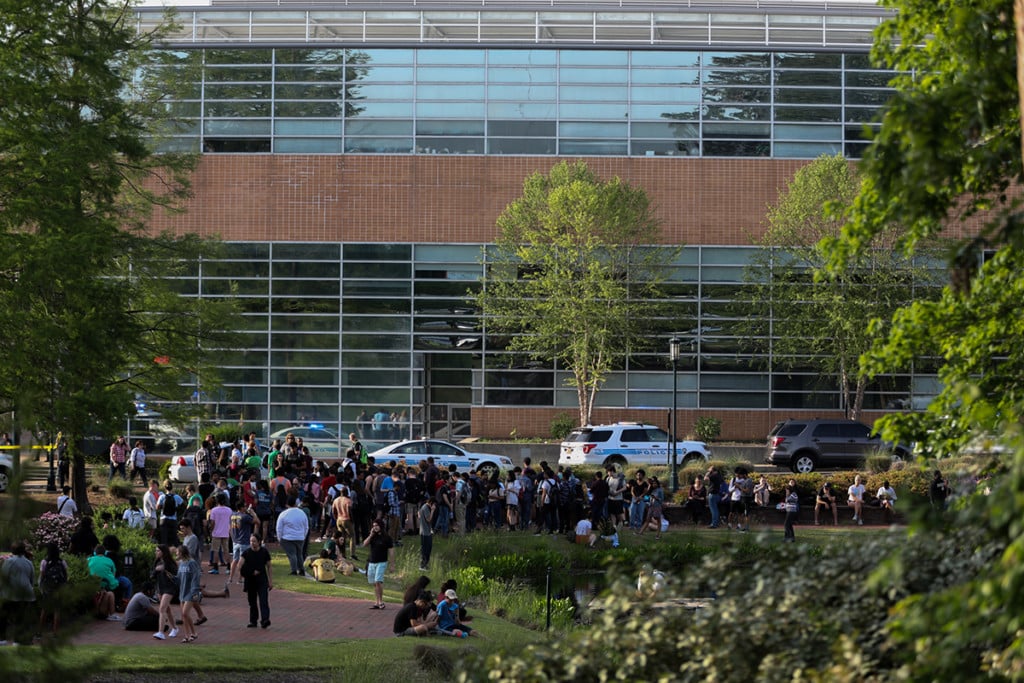 Update, 4 p.m.: Law enforcement officials this afternoon credited one of the two UNC Charlotte students killed during a mass shooting on campus Tuesday with tackling the gunman and enabling campus police to disarm and arrest him.
Riley Howell, 21, was the second student shot and killed, after Ellis Parlier, 19, of Midland, Charlotte-Mecklenburg Police Chief Kerr Putney said during a news conference at UNCC. Referring to a university alert that advised, "Run, Hide, Fight," Putney said, "Having no place to run and hide, (Howell) did the last. But for his work, the assailant might not have been disarmed. Unfortunately, he lost his life in the process."
Howell, whom the chief called a "hero," "took the fight to the assailant … took the assailant off his feet."
A reporter asked if that meant Howell tackled the gunman, whom university officials and police have identified as 22-year-old Trystan Andrew Terrell. "That would be an understatement," Putney said. "Mr. Howell saved lives, absolutely."
Campus police also identified the two officers who arrived on the scene Tuesday at the Kennedy Building, an three-story administrative building in the southeastern part of the campus: Sergeant Rick Gundacker, the first to arrive, and Lieutenant Sarah Smyre, whom UNCC Chancellor Philip Dubois said serves on a university committee that oversees campus safety and security efforts. Gundacker declined to provide details about the incident because of an ongoing investigation, but he said he responded quickly to the dispatch call at 5:42 p.m. and, once on the scene, turned around at one point to see Smyre behind him.
"They acted exactly as trained," said campus police Chief Jeff Baker. "We don't sit. We don't wait. We go." The shooting happened in a "fairly large classroom," Baker said; Putney added, "The choice of that building was by design, was intentional." He declined to elaborate.
Dubois detailed the university's efforts to return to some degree of normalcy. The campus will return to normal status at midnight, he said. Exams, initially scheduled for this week, will be pushed back to next week, Dubois said, and faculty will have "maximum flexibility" in determining when, or even whether, students would take them, "based on their emotional condition."
Commencement, scheduled for on-campus Halton Arena on Mat 10 and 11, will proceed as scheduled, Dubois said: "If (graduates) intended to walk, they'll walk, and we'll determine the integrity of their degrees later." One of the injured students, Emily Houpt, "will be there to walk the stage," he said. Dubois said he visited Houpt and injured students Drew Pescaro and Rami Alramadhan in the hospital Wednesday, and that the three were "all quite alert" and improving.
Update, 11:30 a.m.: UNC Charlotte Chancellor Philip Dubois has identified the two students killed and four wounded yesterday.
Riley Howell, 21, of Waynesville; and Ellis Parlier, 19, of Midland, were killed after a gunman began firing on campus. Four were injured: Drew Pescaro, 19, of Apex; Sean Dehart, 20, of Apex; Rami Alramadhan, 20, of Saihat, Saudi Arabia; and Emily Houpt, 23, of Charlotte. Pescaro underwent surgery last night and is in stable condition, according to his colleagues at the Niner Times, the student newspaper, for which Pescaro covers sports.
Dubois identified Howell and Parlier during an interview Wednesday on WFAE's Charlotte Talks.
April 30: UNC-Charlotte was put on lockdown after a shooting on campus on Tuesday. A message posted near 6 p.m. read "NinerAlert: Shots reported near kennedy. Run, Hide, Fight. Secure yourself immediately. … " One suspect, later identified by the Charlotte-Mecklenburg Police Department as a 22-year-old former student, was quickly taken into custody and the campus remained locked down until all buildings were swept by campus police and CMPD. Jeffrey A. Baker, chief of UNCC police, confirmed that two are dead and four are injured—three of those critically. Dispatch received the first call at 5:42 p.m., about a subject armed with pistol who had shot several students. Baker said "two or three" UNCC cops responded quickly, entered building, disarmed the shooter, and took the suspect into custody. The suspect has not yet been formally identified. "We're all pretty much devastated," Baker added.
UNCC immediately activated its lockdown system after the first call. Campus police train for these types of incidents twice a year, Baker said, and are trained to move quickly in the direction of sound. "It's something you have to prepare for today," he said. "Our officers' actions definitely saved lives. There's no doubt about that."
"This is a day at the end of the semester, when students are doing performances, presentations … this is just the worst thing," says Susan Harden, a Mecklenburg County commissioner and an associate professor of education, near campus tonight. "Our campus is so safe. So safe. I've never felt unsafe on our campus. I'm heartbroken."
"This is a tragic day for Charlotte and this great university," North Carolina Gov. Roy Cooper tweeted. "We mourn the lives lost and we will all be here to support each other. I commend the first responders for their quick action and am grateful that the campus is now secure."