Shop Local at Front Porch Sunday This Weekend
Support Charlotte's small businesses at this outdoor shopping event/block party. There will be beer. And adoptable pups.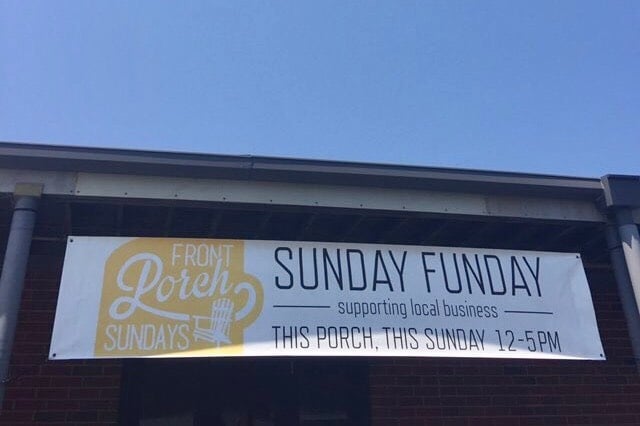 For many, an ideal Sunday Funday starts with yoga, progresses into shopping, and ends with music, a beer, and food truck fare. Sounds like a dream come true, right?
Well, that's what's in store for this weekend's Front Porch Sunday. If you're not familiar with the event, Front Porch Sundays take the charm of the Southern front porch, bring a bunch of locally owned businesses to the spot, and add in festivities that make you never want to leave. It's a mix of a pop-up shop and a block party, and we are most definitely here for it.
This weekend on September 3, you can get in on the Sunday fun at 2151 Hawkins Street, which is Shook Kelley, Inc's front porch, right along the Rail Trail in South End (perfect opportunity to bike or ride the light rail in!). The bustle begins as soon as 11 a.m. with a yoga class by NC Yoga Bar. The class is $5, and you'll get a free beer or coffee for participating. The shopping will be from 12 p.m. to 5 p.m.
Front Porch Sundays are free, but you will have to pay a little penny for some refreshments. Sycamore Brewing will be there with $6 beers, and Hiya Food Truck and Now Toasted Food Truck will be serving up some late weekend grub. There will also be adoptable animals at the event, so arrive prepared if you've got a weak spot for furry friends.
This weekend's afternoon affair will also feature live music from Nate Randall, coffee from Crane Coffee Co., and a $6 pumpkin crafting class with Crowned Sparrow Co.
As for the shopping, there will be more than 40 local businesses offering their goods. It's definitely not too early to start Christmas shopping, and you're sure to find something from these well-loved Charlotte vendors. Some of the businesses participating include brand-new NoDa shop Johnny Fly and game day gear stop 704 Shop, as well as CC's Naturals, CLT Find, The Bike Van, and more. You'll be able to shop everything from clothing to jewelry to artwork to candles. You can also bring your bike for a $25 tune-up with The Bike Van, a mobile bike shop.
Front Porch Sundays are family- and dog-friendly, and this weekend's event is a great way to start off September.