Shop Small on Saturday
Make a big impact in your community this weekend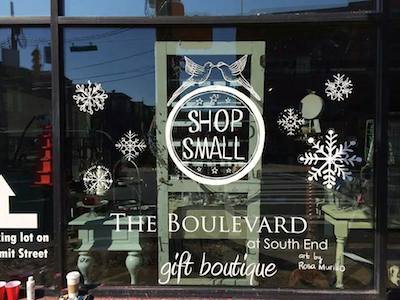 After shoppers hit the malls and big-box stores for Black Friday door busters, Saturday encourages everyone to think local when it comes to seasonal shopping. In 2010, American Express started the Small Business Saturday movement to support local businesses.
Four years later, Small Business Saturday isn't as large as Black Friday, but it can make a big impact in your community. Several local stores in Charlotte are offering sales and promotions on Saturday (and many throughout the weekend) to attract customers.
We recently wrote about the third birthday for The Boulevard at South End (read the full story here), which works with more than 40 local partners to stock the store. Lark & Key Gallery and Boutique, which exhibits and sells the work of local artists, is offering several discounts and promotions through the beginning of December. Other places that support a variety of local partners include the 7th Street Public Market, Atherton Mill & Market, and the Sanctuary of Davidson. These are great places to shop for gifts because of the variety inside a single store. If one artist's style doesn't fit the person you're shopping for, maybe another's will.
To learn more about Small Business Saturday, search for participating merchants, and support the movement, click here.