Show Stopper
Kimberly Pixton Pop-up Shop at Lineage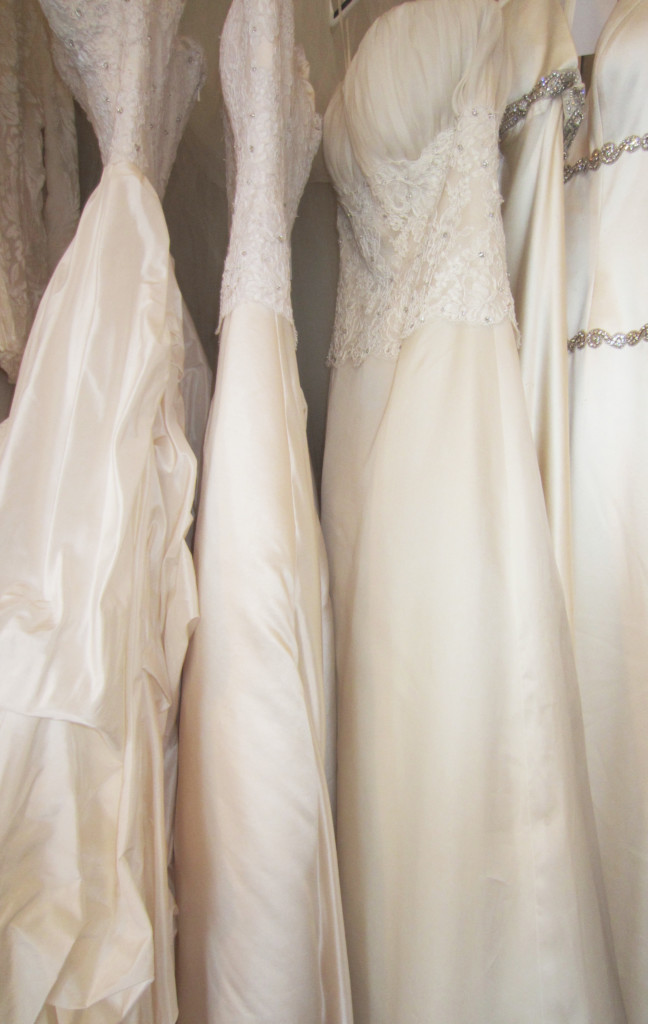 Kimberly Pixton is no Plain Jane. With platinum blonde locks, an infectious laugh, and an unabashed penchant for all things bridal, her charisma is bewitching. One glance at her collection of bridal confections, boasting her signature intricate beadwork, and it's clear her designs will be equally enchanting. Pixton's dresses have invaded Queen City boutique Lineage today for a week-long pop-up shop, and, unsurprisingly, she awaits a bevy of brides.
Having taken a short hiatus from her work, Pixton is back at bridal once again, full force. With a carefully cultivated design team, pop-up stores in North Carolina and Virginia, and the launch of a monthly e-catalogue, the designer has hit the ground running. And given her unbounded enthusiasm, it's obvious this former NC State cheerleader and alum never lost her spirit. "It took me a while to get the right combination of people on my team, but I'm finally there and we are going to show in New York [for bridal fashion week] this fall," says Pixton.
"My aesthetic… It's definitely for the bride who is not really a wallflower," Pixton explains, ending the thought with a giggle. "It's for someone who's not scared to be the center of attention, but in an appropriate way." A description perfectly fitting of both her personality and her dresses, the collection is an equal balance of coquettish and sweet separates and gowns. "My newest collection builds on what I've been doing," she says. After much experience with brides wishing for half of one dress and half of another, Pixton decided to break up the collection into separates. Though she will still have the gowns as well, the option to build a dress is there, and it's her design focus. "In a small way, it kind of helps the environment, I like to think," Pixton explains, smiling. "Just because some of these pieces you can wear again. It's a way to carry on that feeling of being a bride without being head-to-toe white forever. So you don't have to box away your special day forever. You can keep celebrating it!"
And dresses aside, her accessories are a world their own in splendor. Satin ribbons in saturated black, iterations of blush, and white splashed with hand-sewn beaded designs are utterly stunning. Noting my awe over one sash in particular, Pixton explains that the beadwork is based on an art-deco bracelet. Another, which caught my eye the moment she removed it from its plastic casing, boasted black satin ribbon with an intricate oversized beaded medallion. "That's my showstopper!" she gushes, placing it in my lap for further admiring. No doubt, for the next week at Lineage, Pixton, with her effervescent charm, will be the showstopper.