Silent Disco, Super Hero Bar Crawl, Celebrity DJs, Brunch Parties, and More June 7-9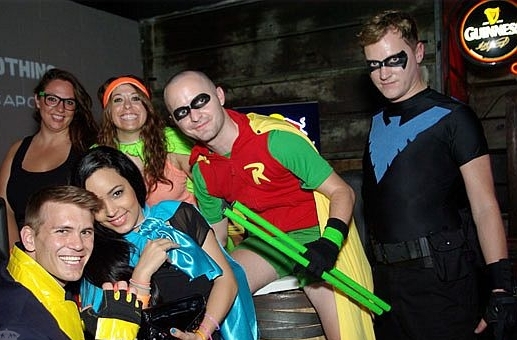 It's a jam-packed weekend of social events and parties, with something for everyone.
Friday, June 7
SQool's Out For Summer Teacher Party
Celebrate the last day of school with teachers and friends. Enjoy teacher-themed drink specials, happy hour food specials, live music by Greg Lilley (4-7 p.m.), patio games such as corn hole, and more. 3 p.m.-until. Free.
Queen City Q
, 225 E. Sixth St.,
queencityq.com
.
Silent Disco Kickoff
It was a popular party series here last summer, and now it returns for each Friday in June. Silent disco is a concept in which guests dance to music playing in wireless headphones, coming directly from the DJ. No loud speakers involved. This Friday features DJ Tony Arzadon. 8 p.m.-1 a.m. Free.
Pavilion at EpiCentre
, 210 E. Trade St.,
pavilionatepicentre.com
.
Master Of The Mix Champion DJ JayCeeOh
Fresh off of winning the
Master Of The Mix
reality TV show DJ competition on
VH1
(and its $250,000 prize pack), DJ JayCeeOh brings his party-rocking skills to this Charlotte nightclub. 10 p.m. General admission $10; VIP tables available.
Label
, 900 NC Music Factory Blvd.,
labelcharlotte.com
.
Saturday, June 8
This DAYum Party Too
This wild day party will feature music by DJ Paradime, oversized games on the patio, hookahs, a food truck outside, and more. Presented by MAZ Entertainment. 3-8 p.m. $10.
Phoenix
, 300 N. College St.,
phoenixofcharlotte.com
,
dayum.eventbrite.com
.
Super Hero Bar Crawl
Returning for the second year, this bar crawl gives you a chance to dress up as your favorite super hero or villain, while getting liquored up along the way. Held in conjunction with one of Charlotte's most popular conventions,
HeroesCon 2013
, which is also taking place this weekend. Presented by CarolinaNightlife.com. 5 p.m.-2 a.m. $15 in advance; $20 on-site. Check-in at
Fitzgerald's Irish Pub
, 201 E. Fifth St.,
superherobarcrawl2013.eventbrite.com
.
Summer Saturday
Get your party on at this new South End hotspot. Featuring music by resident DJ Edward Shouse and a guest set by DJ A-Minor. 10 p.m. Free admission; VIP tables available, yussra@oakroomclt.com.
Oak Room
, 200 E. Bland St.,
oakroomclt.com
.
Zodiac Series: Gemini Edition With Biz Markie
The legendary Biz Markie will DJ this party, after an opening set by DJ Ngenius. Special invite to Geminis who are celebrating their birthdays. Presented by The Sol Kitchen. 10 p.m. $10 in advance; VIP tables available, tami@republicofcharlotte.com.
Re:Public
, 314 N. College St.,
thesolkitchen.com
.
Matrimony CD Release and Concert After-Party
After Charlotte band Matrimony performs in
concert at The Fillmore Charlotte
, join them at this after-party, which is also celebrating the release of their new album on Columbia Records. Music by DJ Vera Bang, and a late-night menu will be available. 11 p.m. Free.
5Church
, 127 N. Tryon St. (corner of W. Fifth and N. Church streets),
5church.com
.
Sunday, June 9
It's Just Brunch
Digital Divas presents the next installment in their brunch series. Order from the great food menu, while enjoying live music, and meet new friends. 10 a.m.-3 p.m. Free admission; reservations encouraged, 704-900-8535.
Napa On Providence
, 110 Perrin Pl.,
napaonprovidence.com
,
digitaldivasevents.com
.
Champagne Brunch Party
It's always a wild and crazy party when these guys throw a brunch event. And this time they're celebrating the birthdays of Derek Braun (of db Promotions), Frank Petrosino, and Ray Dorr better known as RJ Spinher. Music by DJs Rowshay, Kevin Focus, and RJ Spinher. $19.99 brunch menu will be served, along with drink specials such as $5 Bloody Mary and $4 mimosa. Presented by db Promotions. Noon-until. For reservations, 786-877-7902.
Kazba
, at EpiCentre, 210 E. Trade St.,
kazbacharlotte.com
,
dbraunpromotions.com
.
PJ Morton Album Release Performance and Party
Grammy Award-winning singer/songwriter PJ Morton (perhaps best known as the keyboardist for Maroon 5) will give an intimate performance in celebration of his major label solo debut album,
New Orleans
. Presented by The Sol Kitchen. Doors open at 7:30 p.m. $23 in advance.
Double Door Inn
, 1218 Charlottetowne Ave.,
doubledoorinn.com
,
thesolkitchen.com
.
Verify dates, times, prices, and other info at the web addresses listed for each event.