Simple as Pie
CupCrazed is offering delicious desserts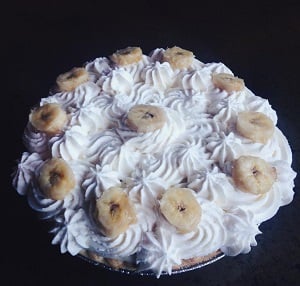 It's kind of a rule that we love sugar, especially as the holidays draw closer. Luckily for those of us calling Charlotte home, CupCrazed owner Heath McDonnell can't stop making delicious and sweet treats, as evidenced by her stints (and wins!) on Food Network's "Cupcake Wars" and "Rewrapped". The unabashed Martha Stewart devotee says she gets her flavor inspiration from pop culture, adult beverages, the world around her, and customer requests.
That being said, starting today, Cupcrazed will being taking orders for pies for the holiday season.
For your gluttonous pleasure, Cupcrazed is offering:
Pecan pie: This classic southern dessert is available in classic, salted, chocolate, and bourbon varieties.
Banana Cream: Another classic below the Mason-Dixon Line, McDonnell is offering this treat in either classic or peanut butter.
Pumpkin: This pie is offered in one variety — the one everyone loves.
Think about how insane, hectic, and crazy the holidays are. Not having to bake dessert on top of everything else on your to-do list will lessen the load. Teacher gift? Done. Hostess gift? Check. You can even impress your friends while you're entertaining — walk out of the kitchen triumphantly after that gorge-fest with a Cupcrazed pie in hand. No one has to know you didn't slave over an oven making it.
The nine-inch pies are $30-35 each and made to order, so three days notice is required. The desserts are available for pickup only at the Cupcrazed Cupcakery in Fort Mill. Sorry, no delivery. To place your order, call 800-396-7372.