Simple Sangria
Simple sangria: easy ways to customize the classic, colorful cocktail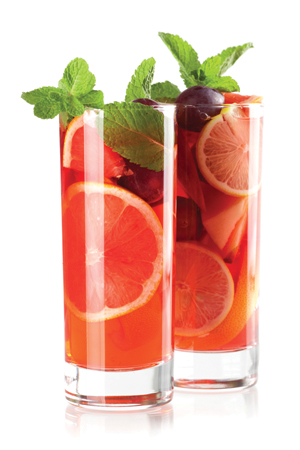 Ginger ale gives a little fizz to this classic wine punch. A crowd pleaser, it will add a refreshing splash of color to your next gathering. Make it your own with additions of fresh fruit and herbs or by substituting your favorite wine.
Sangria from Vida Mexican Kitchen y Cantina
Makes 1 pitcher
2 oz El Jimador tequila
1 oz Triple Sec
1 oz fresh lime juice
1 oz pineapple juice
20 oz Cabernet/Merlot blend
Splash of agave nectar
Top off with ginger ale
Mix ingredients in a large pitcher. Serve over ice.
To customize:
Add fresh fruit
Drop in chilled grapes, slices of citrus, thin wedges of mangos and peaches, or mix in fresh, muddled berries for a beautiful—and delicious—garnish.
Swap in your favorite red wine
No Cabernet/Merlot blend in the house? Any dry red wine will work.
Garnish with herbs
Add fresh basil or mint leaves for a pop of color that's tasty, too.